2023 F-150® Commercial
HYBRID
THE BEST OF BOTH WORLDS
Whether operating in electric mode, gas mode or a combination of both, the F-150® hybrid features advanced technology that optimizes power and performance. And like every F-150® truck, it's Built Ford Tough,® with an available PowerBoost™ full hybrid V6 engine putting out a commanding 430 horsepower and 570 lb.-ft. of torque. *
...less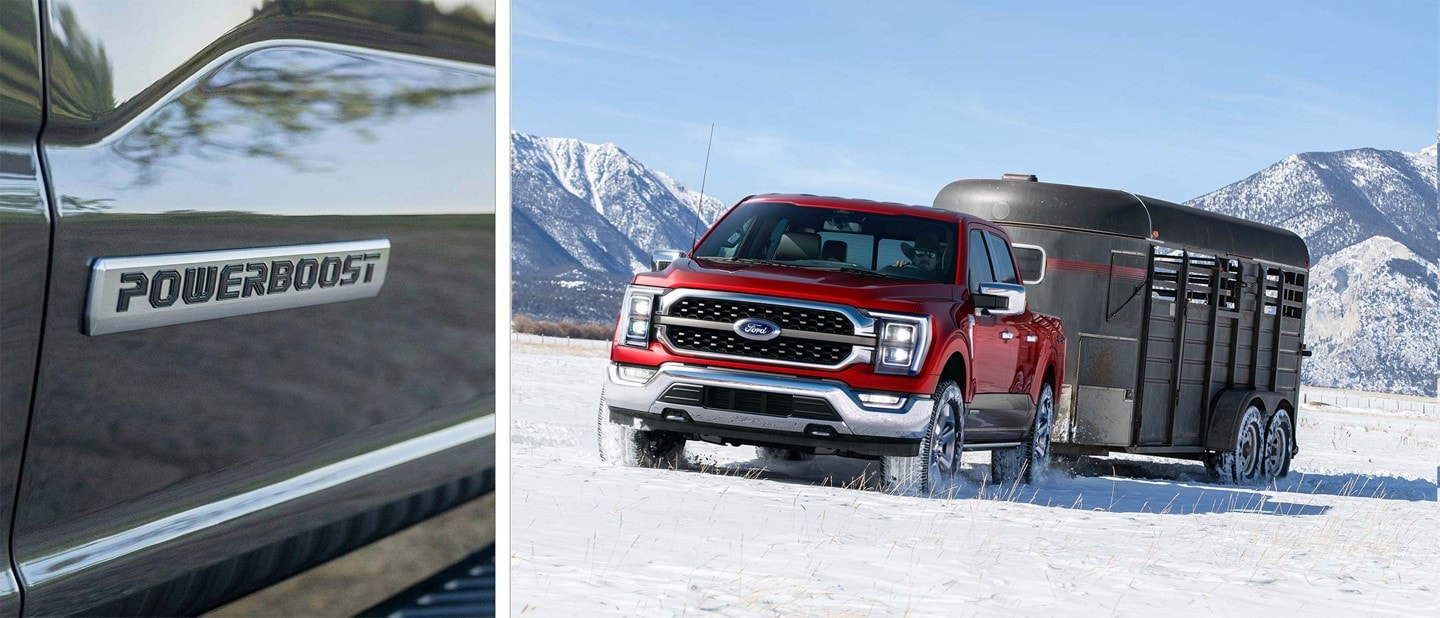 POWERBOOST™ FULL HYBRID
The Ford Hybrid 3.5L PowerBoost V6 engine is an army of one, harnessing the combined efforts of gas and electric energy in a single powertrain to achieve maximum towing capacity. It's the type of raw power that gives this engine a max towing capacity of 12,700 lbs.,* 430 horsepower and 570 lb.-ft. of torque. Included with the PowerBoost Full Hybrid V6 Engine, Pro Power Onboard gives you the ability to use your truck as a mobile generator. It is available with various levels of electrical output.
...less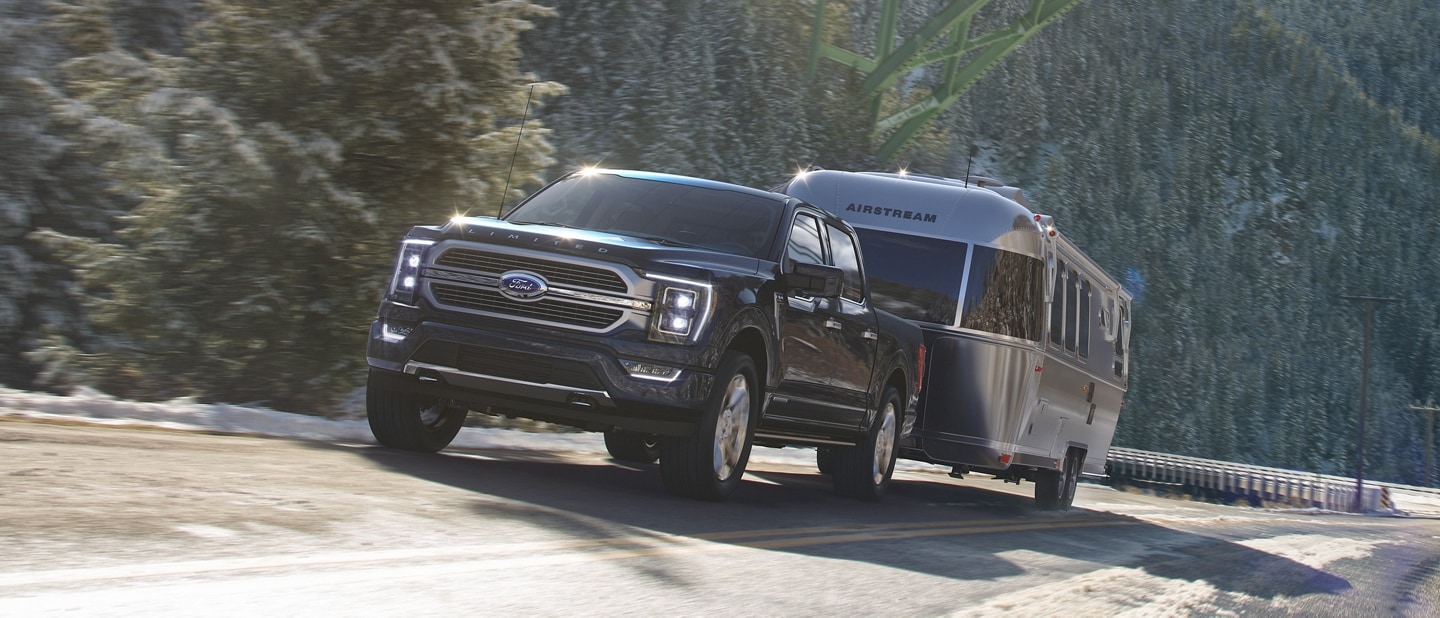 AVAILABLE PRO POWER ONBOARD™
It's that amp-turned-up, we-have-lift-off type of power—and your F-150® delivers it even when parked. Class-exclusive Available Pro Power Onboard™* gives you the ability to use your truck like a mobile generator, wielding up to 7.2kW of available exportable power** depending upon configuration.
...less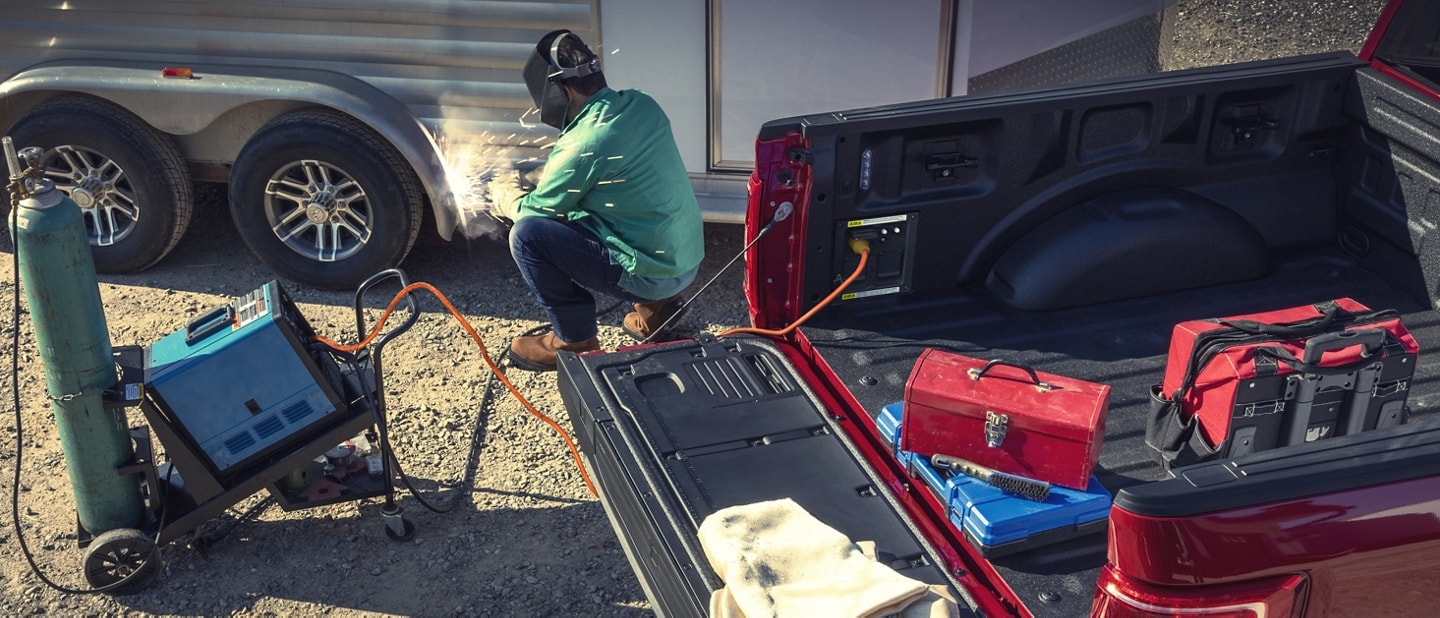 POWER YOU CAN TAKE WITH YOU
The moment can strike at any time when you wished you had electrical power. With the available Pro Power Onboard,™ you're never left holding the cord because you have an instant energy source right in the bed of your truck. And with multiple available wattage configurations to choose from, you can power anything from a game console to a TIG welder.
...less
MORE OUTLETS, MORE THINGS TO POWER
With the option of four to six 120V/20A outlets to choose from, and an available four-prong locking 240-volt outlet, you'll never be short on fulfilling all of your power needs.
...less
POWERS TVs TO TIG WELDERS
From the job site to the tailgate, standard or available configurations of Pro Power Onboard™ gives you the convenience and luxury of having exportable power at the ready. Here are just a few of the things you can power up:
Work:
Reciprocating saw (780W)*
Sander (150W)
Welder (240V) (4,000W)*
G6 air compressor (1,200W)*
Recreation:
Microwave (1,300W)*
Blender (600W)*
Game Console (250W)*
TV (150W)*
...less
F-150® POWERBOOST™ HYBRID TORTURE TESTING
If the nameplate says F-150® then you know it's BUILT FORD TOUGH® to exceed your expectations for capability and dependability. Watch as we put the full-hybrid F-150 through the same demanding and rigorous tests as every truck that bears the F-150 emblem.
...less