2023 F-150® Lightning®
CAPABILITY
CAPABILITY TO EXPLORE
F-150® Lightning® is a driving and ownership experience unlike any other. You have the ability to power your home up to 3 days* in an emergency while enjoying seamless connectivity to software updates and a digital screen larger than any currently offered on a full-size truck. There's also a convenient, spacious Mega Power Frunk to carry your stuff. Plus, you get amazing torque and intelligent towing capability.
...less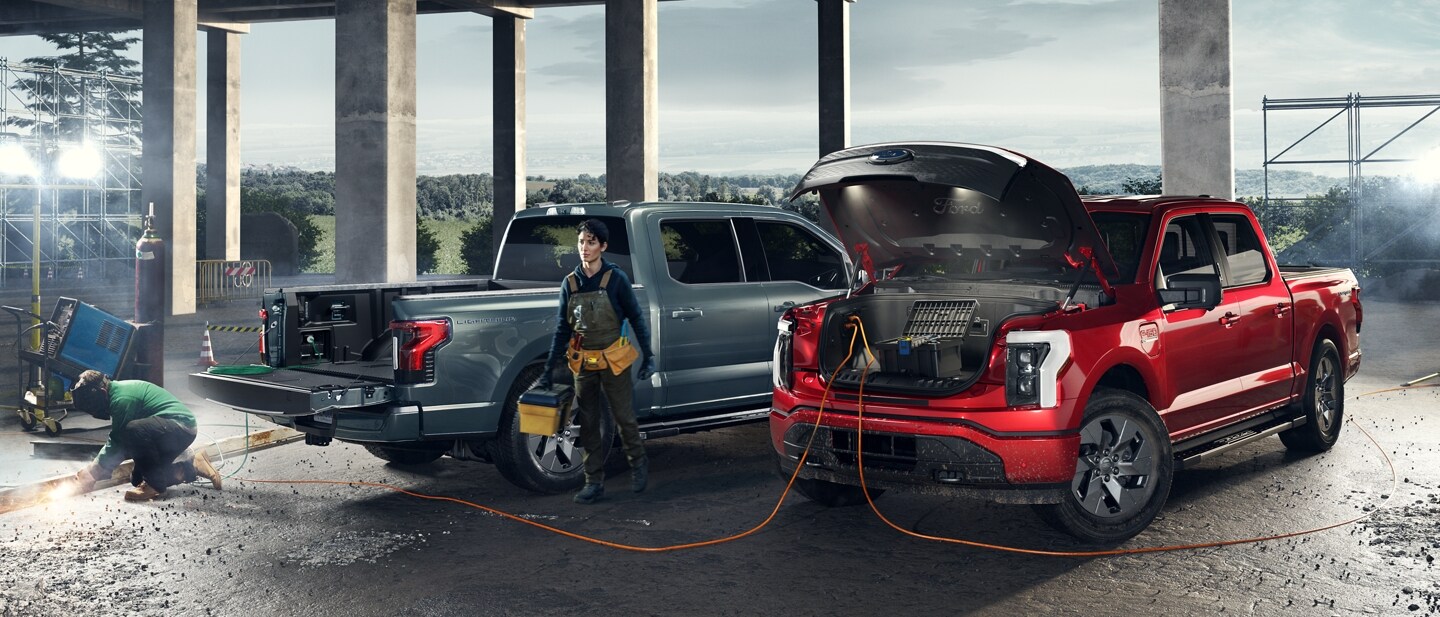 ENHANCED PRO POWER ONBOARD
See the Owner's Manual for important operating instructions.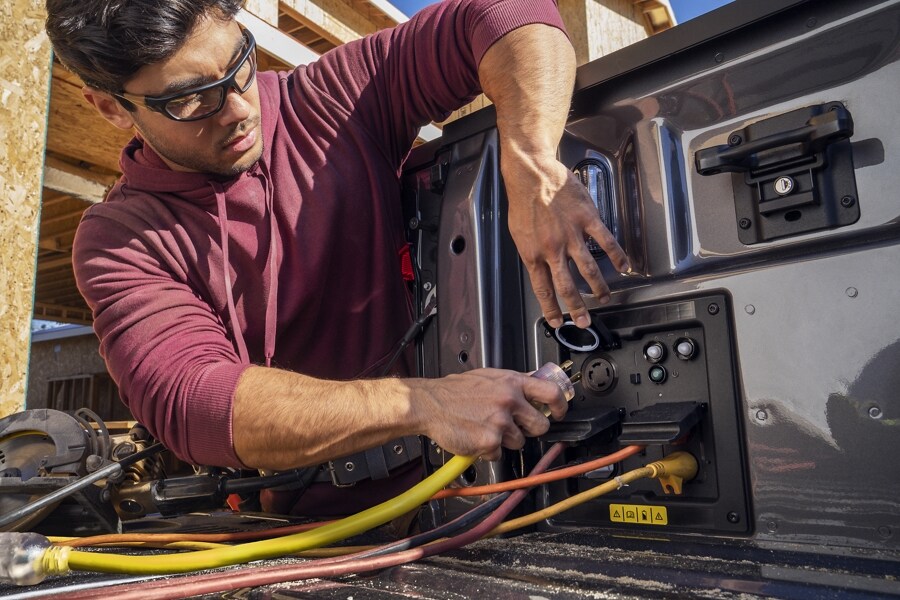 UNLEASHING 9.6 KW OF POWER
Pro Power Onboard offers an available 9.6 kW of max power output. So fire up that table saw. And the blender. And the circular saw, the fan, can opener, kettle or even a workspace. With all its power, the F-150® Lightning® is up to the task. *
...less
*See the Owner's Manual for important operating instructions.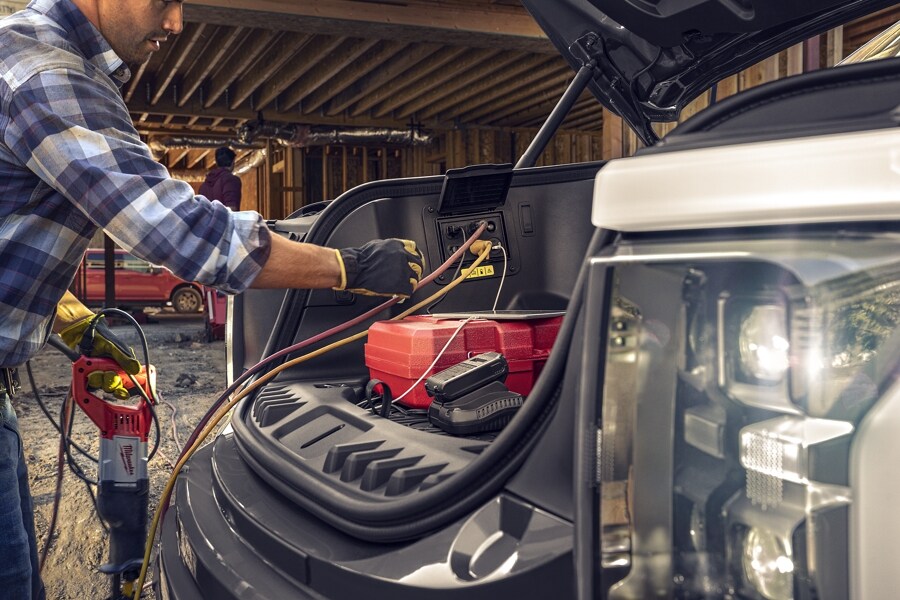 BUMPER-TO-BUMPER POWER
Pro Power Onboard offers 11 convenient electric power outlets. Two 120V outlets in the cab. Four in the Mega Power Frunk with USB-C and USB-A ports. The bed contains four 120V outlets plus an available 240V outlet. *
...less
*See the Owner's Manual for important operating instructions.
INTELLIGENT BACKUP POWER
When the lights go out, available Ford Intelligent Backup Power, enabled by 80-amp Ford Charge Station Pro and home integration system, acts as a backup source to power up your home. * Available 2023.
...less
*When home is properly equipped and home transfer switch disconnects the home from the grid.
TAKING BUSINESS ON THE ROAD
Packed with intelligent features, F-150® Lightning® epitomizes how Ford combines advanced digital technologies with proven engineering know-how to create a truck that's smart and connected.
...less
STOW-AWAY SHIFTER FOR INTERIOR WORK SURFACE

With the push of a button, the gear selector stows away, allowing a spacious available flat work surface to fold out.

...less

FLAT TAILGATE WORK SURFACE

It's like a workbench on wheels. The improved non-slip surface helps grip cargo. Two concealed clamp pockets allow you to clamp timber or tools to the tailgate. Embedded rulers, two tie-down/bottle openers and cup holders help to make work a whole lot easier.

...less

ZONE LIGHTING

Want to keep working or playing into the night? Then you'll love this. A network of LED lights illuminates 360 degrees around your truck. Choose all at once or select just a few. Use the integrated touchscreen or FordPass™ App to control the zones remotely. ...less
POWER TO WOW
With its available extended range battery, the 2023 F-150® Lightning® offers 775 lb.-ft. of easy to modulate, nearly instant torque. Whether you're pulling a boat out of the water or pulling away from a traffic light with a loaded bed, the truck is ready to do the job. *
...less
*Based on manufacturer testing using computer engineering simulations. Calculated via peak performance of the electric motor(s) at peak battery power. Your results may vary.
580 HORSES BORN TO RUN

The extended-range battery delivers 580 horsepower. So buckle in, hit the pedal and enjoy the ride. *

...less

FASTEST ACCELERATING F-150® YET

The 2023 F-150® Lightning® truck with the Extended Range Battery offers nearly instant torque, which helps it hit 60 mph in the mid-4-second range. * ...less

THE STRONG SILENT TYPE

Don't be fooled by its lack of engine rumble. The dual-motors of the F-150® Lightning® all-electric powertrain deliver an awesome 775 ft.-lb. of torque. * That's power you can rely on both on and off-road. ...less