2021 Chassis Cab
CAPABILITY
CAPABILITY BUILT IN FROM THE GROUND UP

When you want to get the most done, on the job site or over the road, our Super Duty® Chassis Cab delivers with its ruggedly engineered fully boxed steel under-cab frame — plus beefy front suspension, chassis and driveline components. Today's Super Duty® is more capable than any of its predecessors, hauling and towing with strength.
...less
U.S. Model Shown.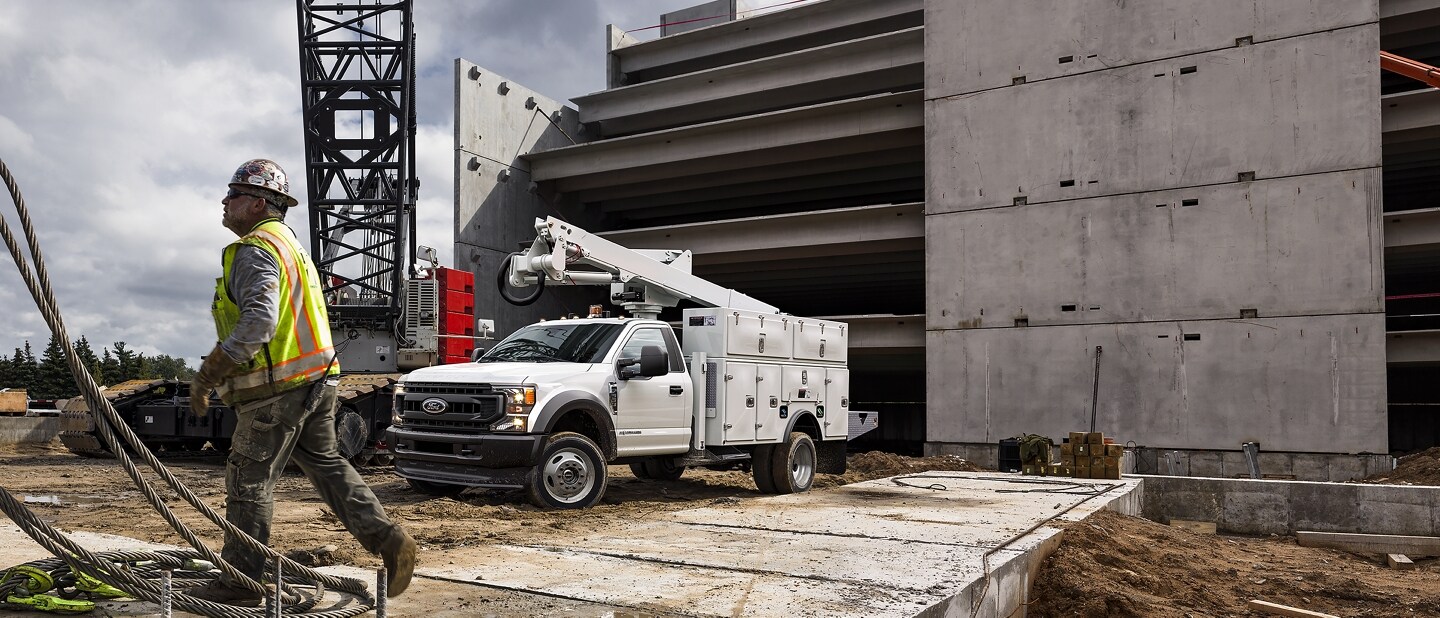 THE F-600
Experience the capability of a Class 6 medium duty truck in the smaller and familiar package of a Class 5 chassis cab. The F-600 features a 15,090-lb. maximum payload rating and is able to tow up to 34,500 lbs.20  It boasts a GCWR of 43,000 lbs.20 , and higher-weight-rated 19.5'' tires allow it to achieve a GVWR of 22,000 lbs.20 . The 2021 F-600 offers a standard class-exclusive* 7.3L V8 gas engine, and an available 6.7L engine.
...less
U.S. Model Shown.
*Class 6-7 Conventional Chassis Cabs.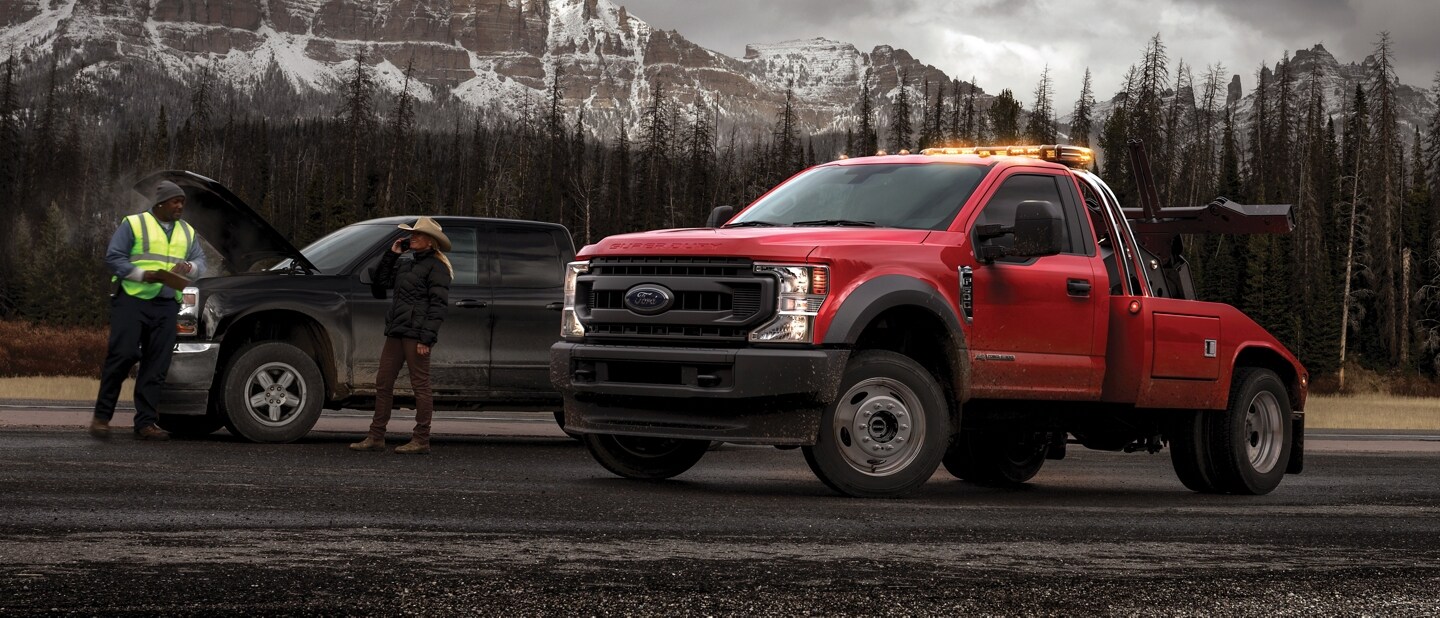 BEST-IN-CLASS PAYLOAD
Reducing body weight and making the frame eight times stiffer than before — together, these increase the payload in today's generation of the Super Duty® Chassis Cab. And that's a big reason why F-550 reaches a best-in-class maximum payload rating* of 12,750 lbs. (5,783 kg), while the new F-600 can haul a maximum of 15,090 lbs. (6,844 kg).**
...less
U.S. Model Shown.
See label on door jamb for carrying capacity of a specific vehicle.
*Max available payload on F-550, 7.3L, Regular Cab, 80'', 4x2. Class 3-5 Conventional Chassis Cab.
**Max available payload on F-600, 7.3L, Regular Cab, 60'', 4x2.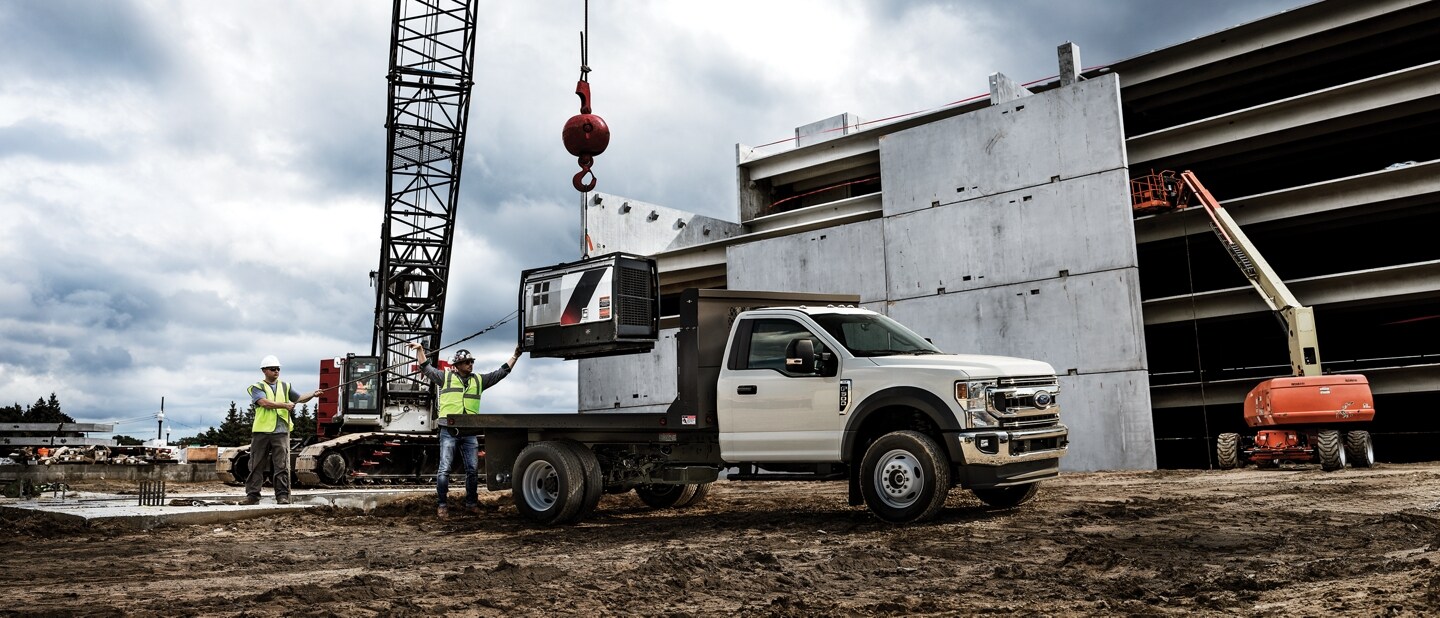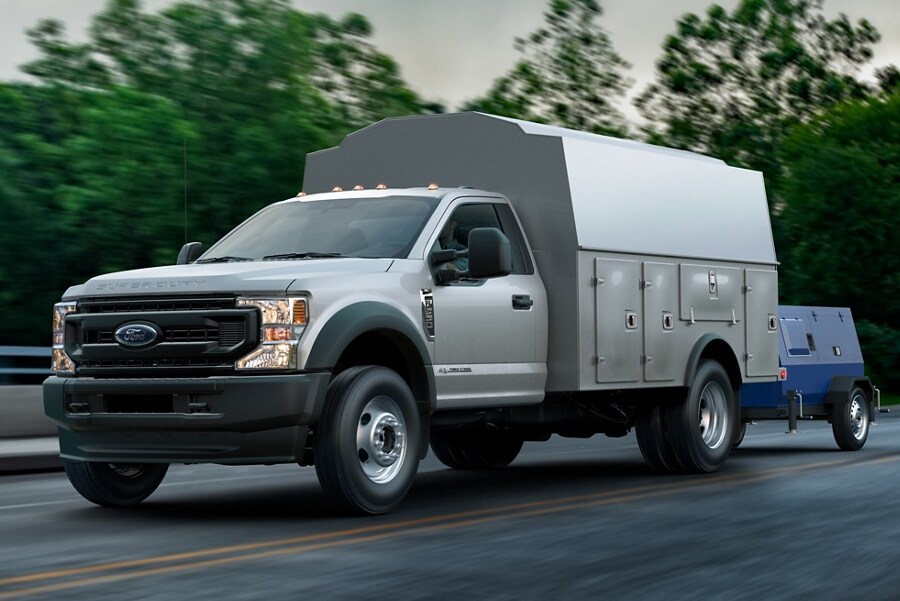 STRONG TOWING
When the job calls for towing huge loads, the Super Duty® Chassis Cab lets you do just that, thanks to the heavier and stronger frame components and driveline of today's generation of the Ford Super Duty. The 2021 Super Duty Chassis Cab features max gooseneck towing of 34,500 lbs.,* and you can choose from Trailer Tow Packages, standard or high capacity.
...less
U.S. Model Shown.
*Max available gooseneck tow rating on F-600, 6.7L, Regular Cab, 60" 4x2.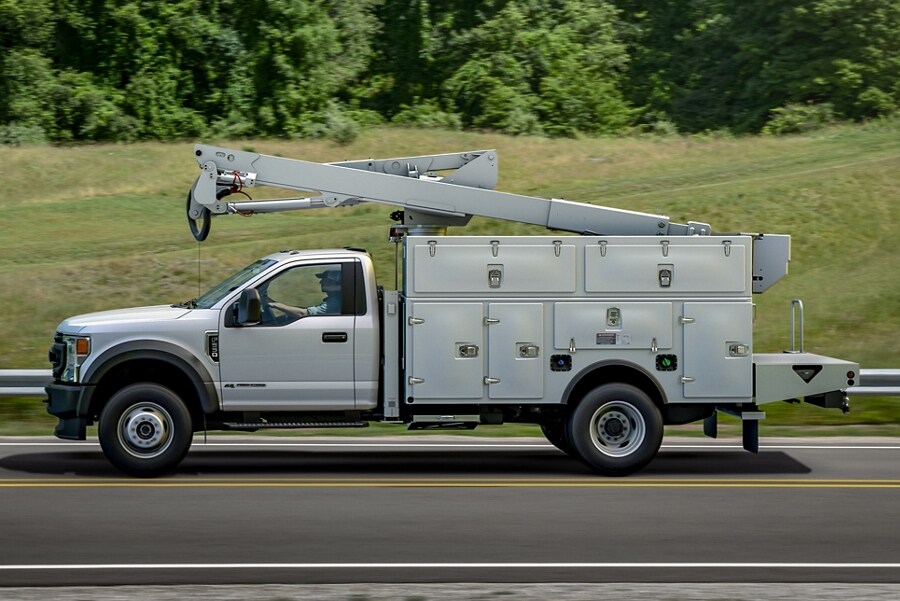 OUTSTANDING GCWR

Take the fully boxed under-cab and redesigned C-channel aft-of-cab frame built of high-strength steel — plus the heftier components of the suspension, chassis and driveline. Now add the outstanding hauling and towing capabilities of this Super Duty® and you've got an impressive gross combination weight rating of 40,000 lbs. (18,143 kg) on F-550. But we didn't stop there; the F-600 takes things even further, with an incredible GCWR of 43,000 lbs. (19,504 kg) when equipped with the available 6.7L Power Stroke® V8 Turbo Diesel Engine. 
...less
FRONT AND REAR GAWR
Upfit bigger with the Ford Super Duty® Chassis Cab. Some of the weight savings from the high-strength, military-grade, aluminum-alloy body were reinvested into heavier-duty axle and front suspension components, resulting in a maximum front gross axle weight rating of 7,500 lbs.* Additionally, all Super Duty Chassis Cab F-600 models come with a standard rear GAWR of 15,500 lbs.
...less
U.S. Model Shown.
*Max GAWR of 7,500 lbs. available on F-450/F-550 with Extra-Heavy-Duty Suspension Package. Standard on F-600.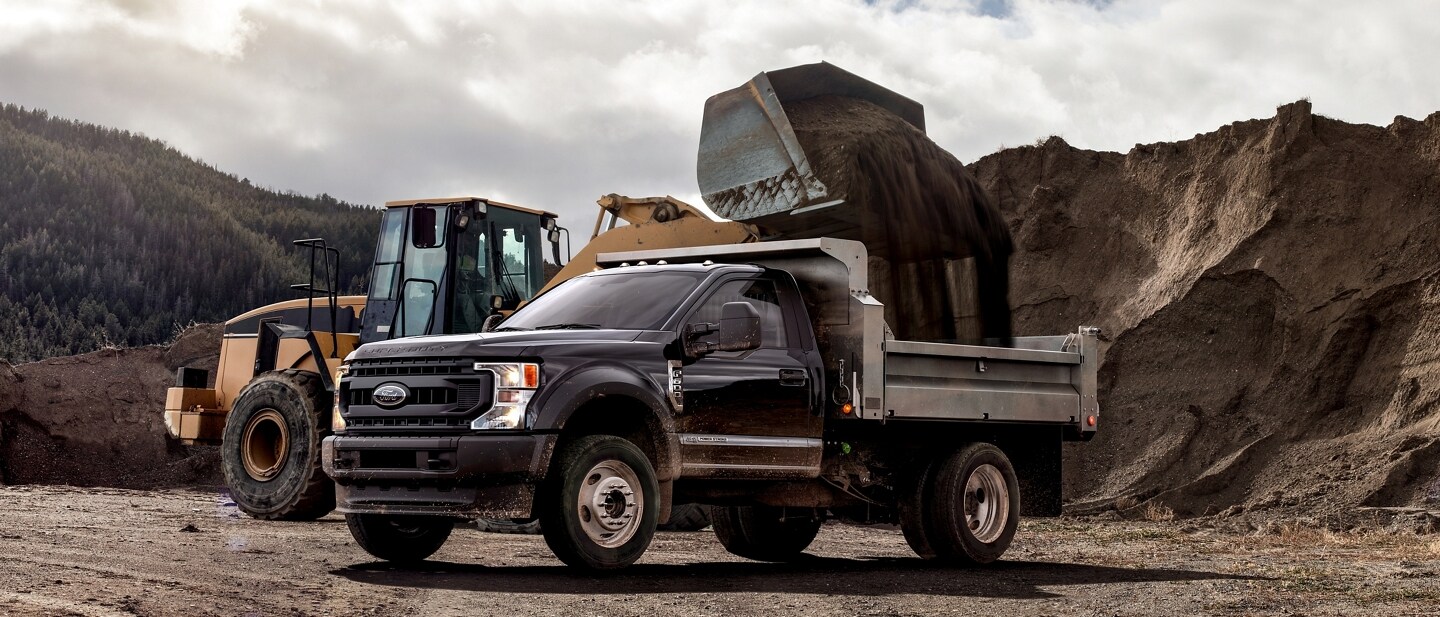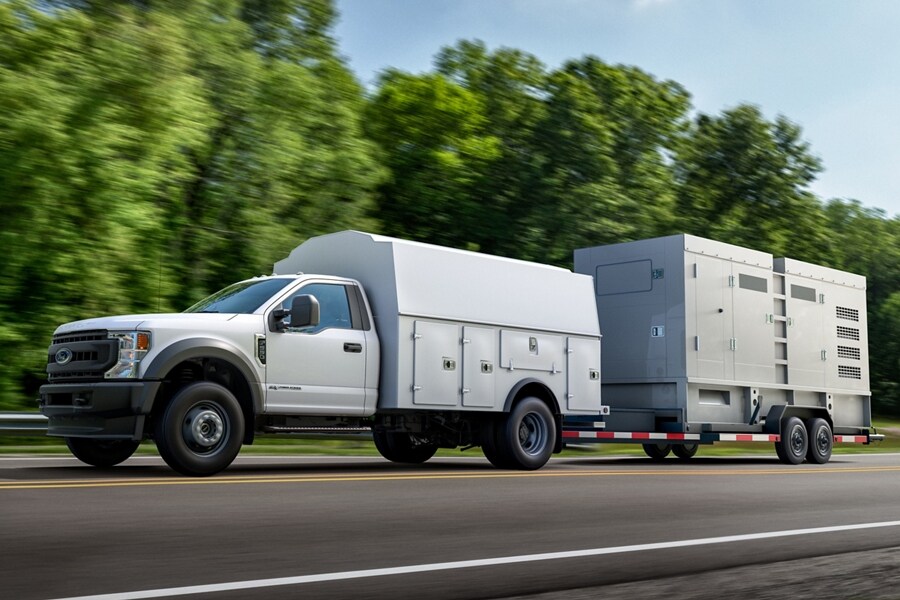 ADVANCETRAC® WITH ROLL STABILITY CONTROL™ (RSC) AND TRAILER SWAY CONTROL

Super Duty® comes with standard AdvanceTrac with Roll Stability Control™ (RSC)19  and trailer sway control19  on single- and dual-rear-wheel models. Both systems use gyroscopic sensors and apply a combination of reduced engine power and selective wheel braking to help maintain control of the vehicle and the trailer in tow19

.
...less
U.S. Model Shown.

AVAILABLE LED SPOTLIGHT SIDE MIRRORS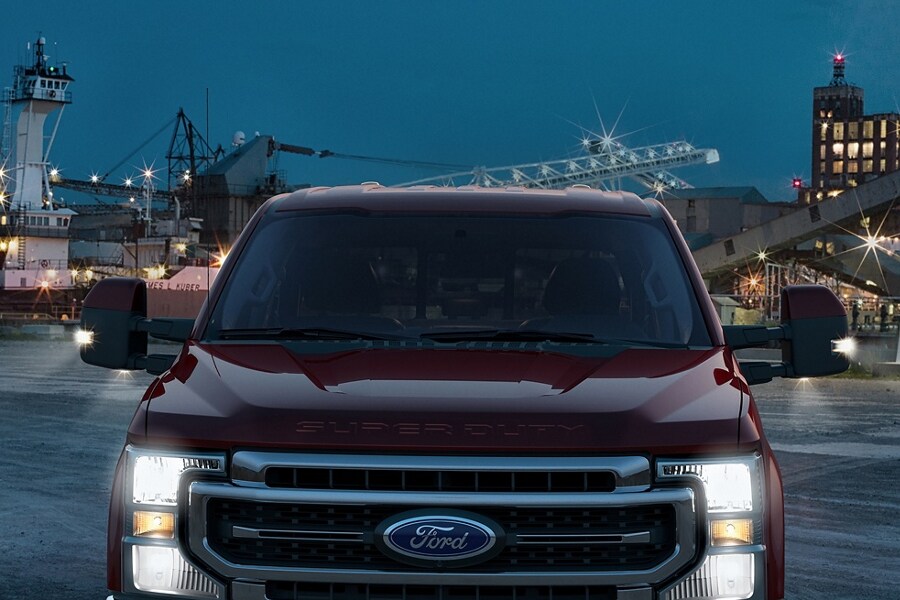 The 2021 Ford Super Duty® features available LED Spotlight Side Mirrors for increased visibility on-site. LED Spotlight Side Mirrors can glow bright white, keeping your truck visible in environments with particularly low lighting, and they can also be used as spotlighting to illuminate the area around your truck while you're parked. Available on XL and XLT models and standard on LARIAT.
...less
REAR-SEAT STORAGE AND LOCKING UNDER-SEAT STORAGE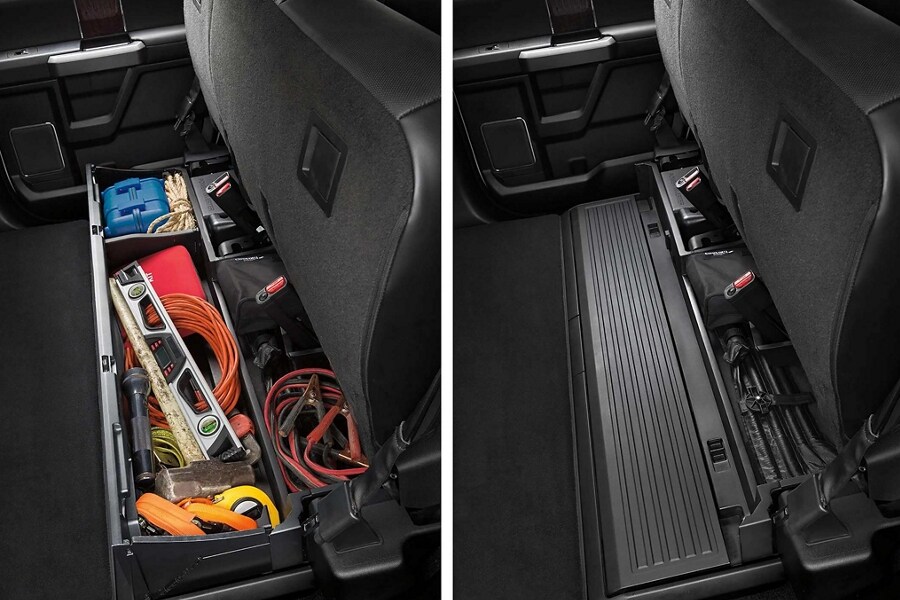 You'll appreciate the convenience of Super Duty® interior design when you need to carry cargo and other items inside the cab. SuperCab and Crew Cab models feature a Rear Flat Load Floor that helps make it easy to load large cargo, as well as an available Folding Lockable Under-Seat Box that is integrated within the floor of the vehicle for storing loose items, you'd want to keep concealed and secure. The SuperCab removes the B-pillar and features rear doors that swing open wide for easy unloading and loading of equipment into the cab.
...less