GREATER POWER AND SMARTER THAN EVER
It's our most capable and smartest Super Duty® truck ever. With cutting-edge technology to make moving big things smoother and offering best-in-class power courtesy of the all-new available 6.7 L HO Power Stroke® Turbo Diesel engine. Making this the most powerful Super Duty ever. * And when combining smart tech with outstanding power we've raised the bar – and productivity – elevating your towing and hauling to new heights.
...less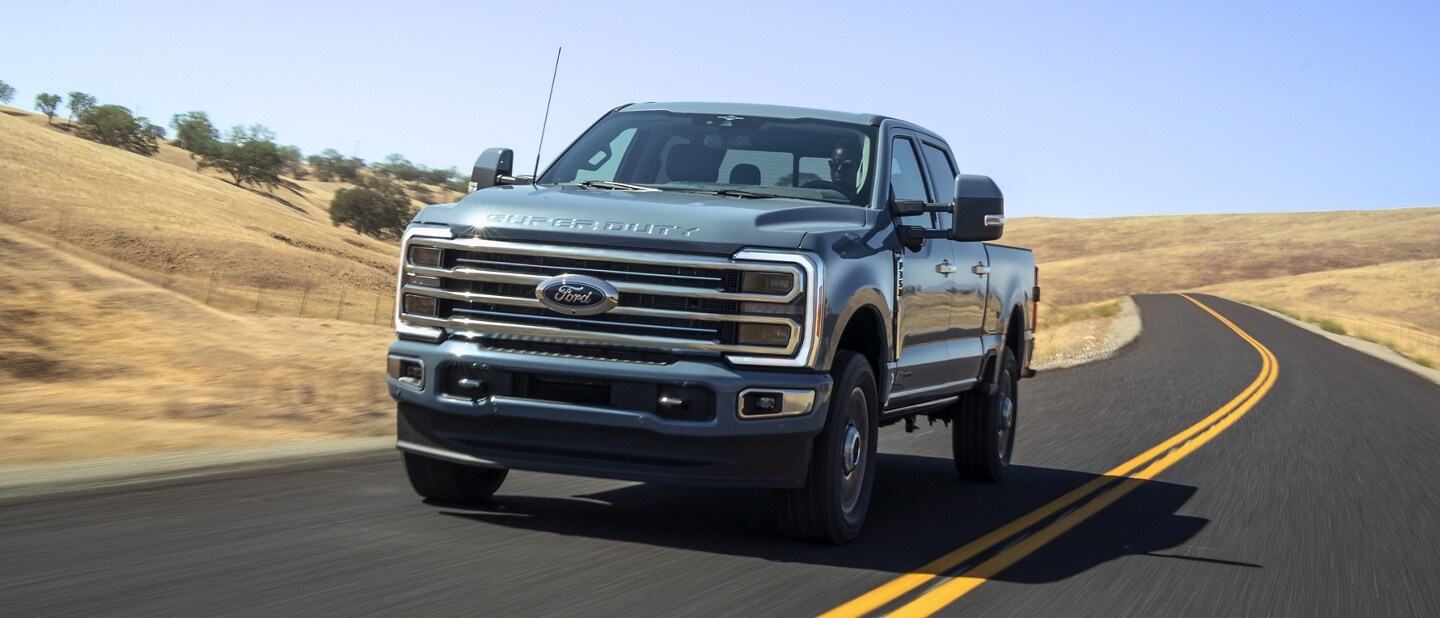 POWER TO MOVE CONCRETE AND STEEL
Super Duty® offers both gas and diesel engine options that churn out the kind of power used to build neighbourhoods, harvest farms and move land-movers. And it does it with ease because it runs the table in multiple best-in-class max. available gas and diesel horsepower/torque power ratings. *
...less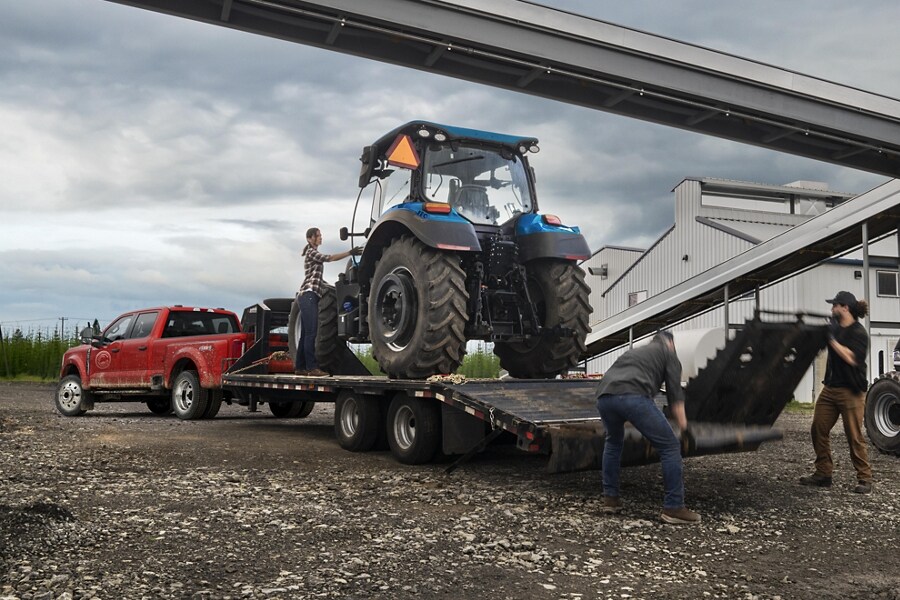 HULKING TOWING AND PAYLOAD
The 2023 Ford Super Duty® will put in a long day of lugging whatever you throw in it or hitch it to day in and day out. Because Super Duty trucks own capability across the board, including an extraordinary gooseneck and conventional tow rating, along with exceptional payload hauling capability.
...less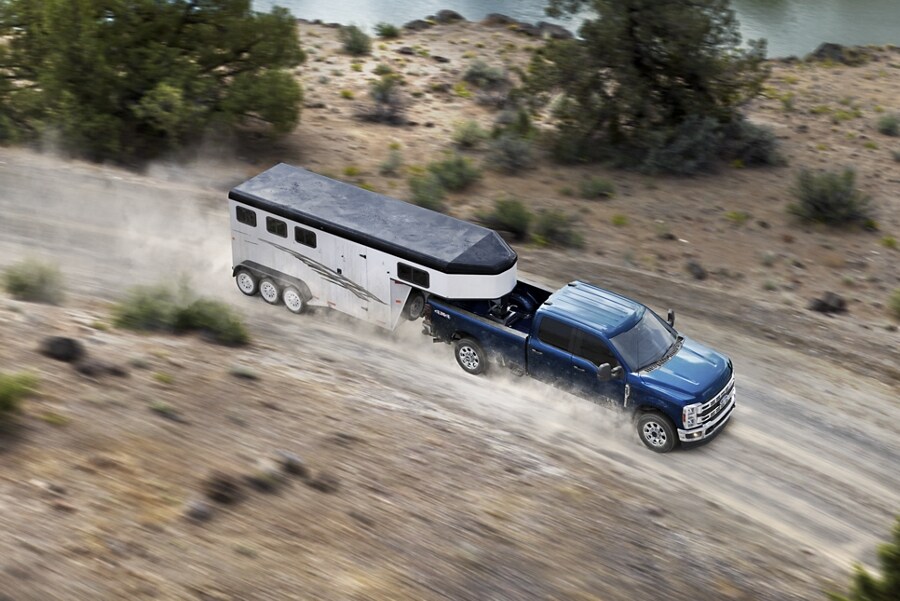 BEST-IN-CLASS DIESEL HORSEPOWER AND TORQUE
It takes a strong back to haul and tow the huge loads, but what really impresses is the muscle. Horsepower and torque. And that's where all 2023 Super Duty® trucks are stacked. As a matter of fact, they deliver the most horsepower ever produced for Super Duty. * Cranking out up to a class-leading max. available 500 horsepower at 2,600 rpm and a massive 1,200 lb.-ft. of torque. **
...less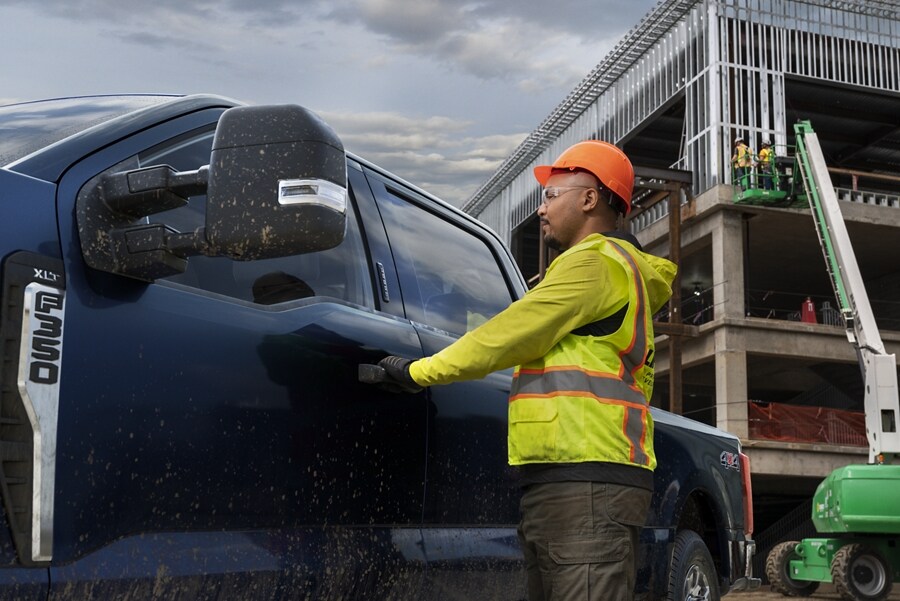 PULLS THROUGH THE MUCK
It's a guarantee that on any given day you're gonna be faced with a muddy, rutted worksite or unpaved road during your travels. Lucky for you, the 2023 Super Duty® truck is backed by outstanding capability, power and available selectable drive modes.
...less
BIG IDEAS FOR TOWING BIG THINGS
Super Duty® trucks are bringing you the future of towing and hauling. While being the best in a number of towing categories – including best-in-class max. available 40,000 lbs. (18,143 kg) gooseneck towing* and 30,000 lbs. (13,607 kg) conventional towing capacity** – makes your job easy, we've equipped all Super Duty trucks with innovative features that help make hitching, trailering and manoeuvering smoothly.
...less
GET A BETTER LOOK AT YOUR SURROUNDINGS

For the trailer-towing expert to novice tower, now get an eye-in-the-sky perspective. When you mount a new, available 360-Degree Trailer Camera System10 to your trailer, you get a sharp image from above on your display screen to see if you're free and clear on all sides of your truck and trailer. * ...less

TRUCK TECH THAT MAKES HITCHING EASY

Who doesn't like a little convenience now and again? Regardless if you're hooking up to a flatbed trailer or backing an enclosed trailer into a tight spot, state-of-the-art features like available Pro Trailer Hitch Assist* and Pro Trailer Backup Assist9 make it a lot simpler. ...less
FORWARD-THINKING, RIGHT BEHIND YOU
It takes more than a good idea to turn a tough day into an easy one. It takes a bed full. Super Duty® trucks offer solutions that help make every hard day on the job easy. So, we're giving you the stuff to help make you more productive at the worksite. Find plenty of smartly-designed features in and around the truck bed.
...less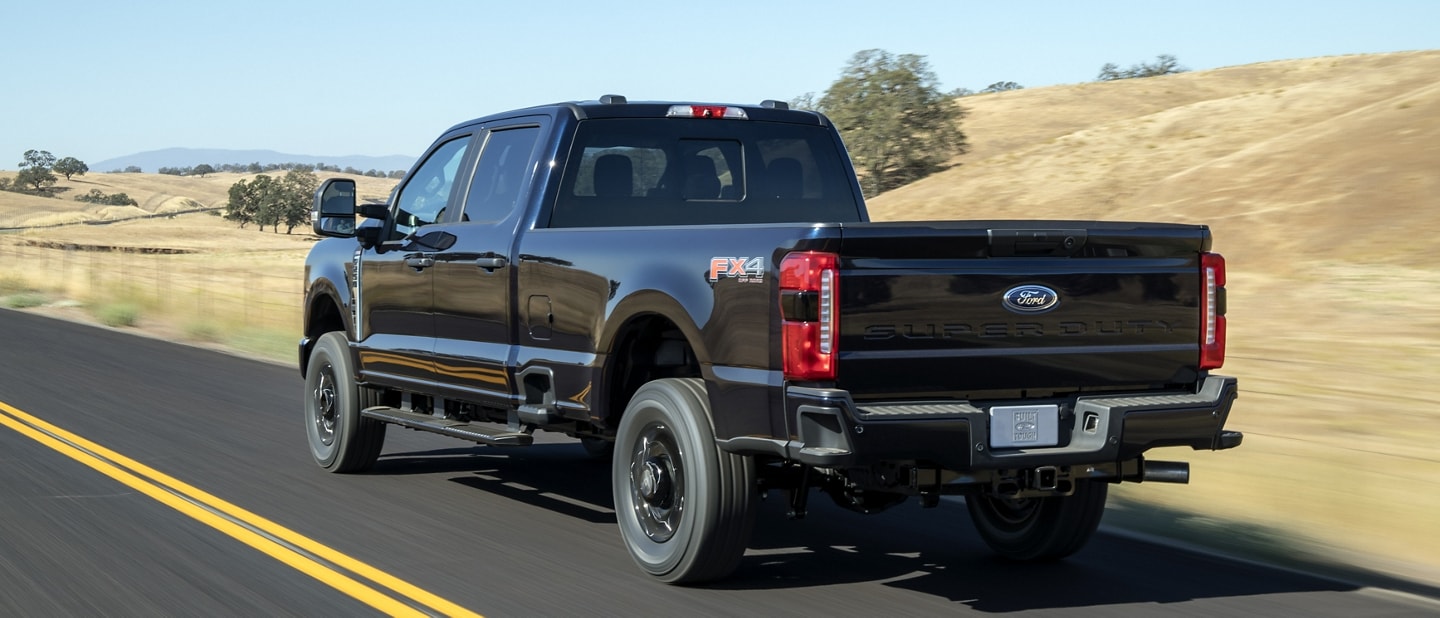 STYLE YOU CAN'T HELP BUT NOTICE
We've given Super Duty® pickup a few aesthetic and feature updates to make it even more of an attention-grabbing, standout presence on any job site.
...less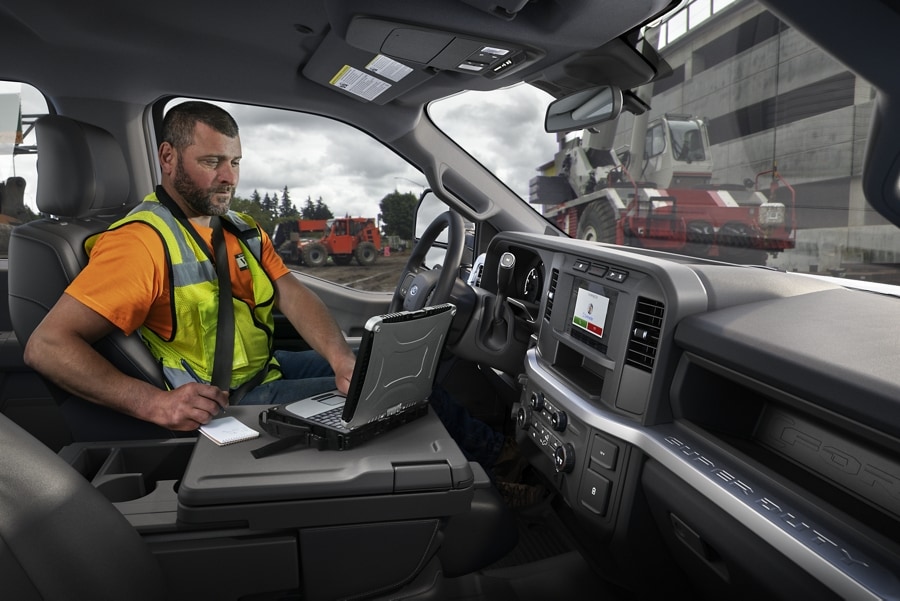 IMPRESSIVE FROM THE GET GO
One look at the 2023 Ford Super Duty® truck and you know it's designed to impress. Taking charge with modern exterior details that have been redesigned front to back. As well as interior updates to make every moment spent inside Super Duty productive and exceptional.
...less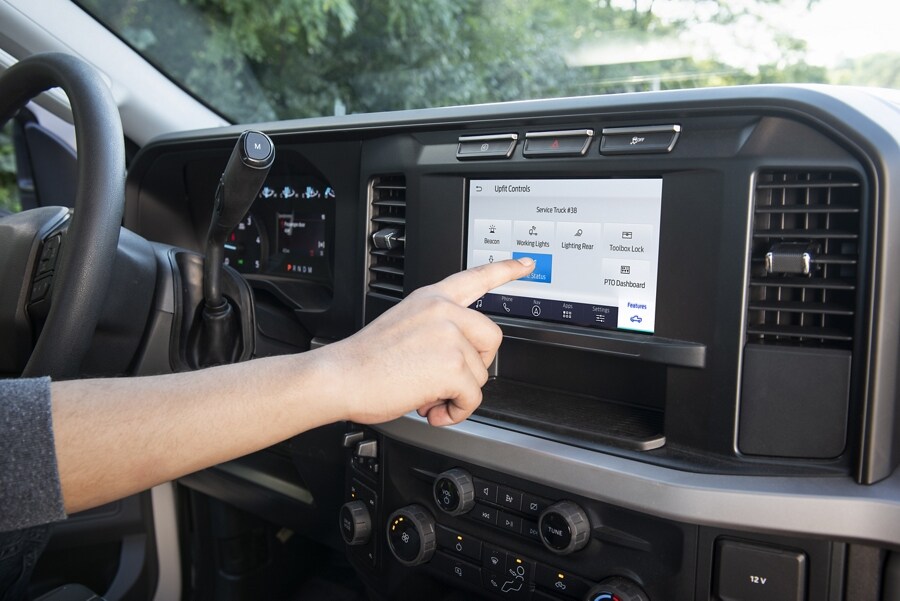 NEW IN-CABIN TECHNOLOGY
New updates located front and centre offer assurance when travelling and working in your Super Duty®. With an available 12" display touchscreen (8" touchscreen standard on XL and XLT models) and features that add confidence, support and easiness while driving, trailering and backing up.
...less
EVERYTHING YOU WANT IT TO BE... AND MORE.
The 2023 Ford Super Duty® pickup will put in a long, hard day lugging whatever you throw in it or hitch it to. Because Super Duty brings big capability with it no matter what it does. Including best-in-class 500 horsepower and 1,200 lb.-ft. of torque, * along with exceptional towing and payload capability.
...less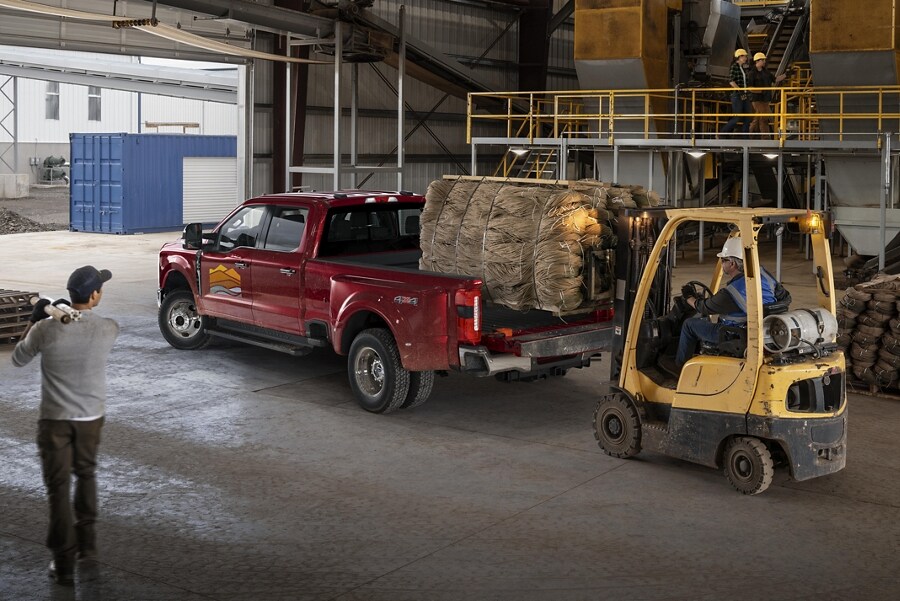 THE BEST OPTIONS FOR ANY JOB
With newly available diesel- and gas-fueled engines, the 2023 Super Duty® offers exceptional performance with best-in-class 500 horsepower and 1,200 lb.-ft. of torque power ratings. * Making it the personification of capability and toughness.
...less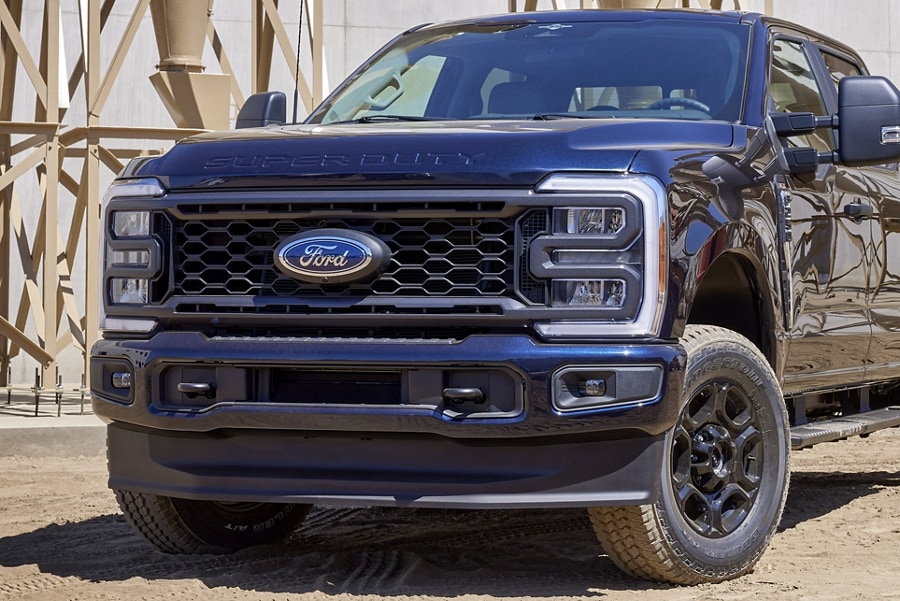 ONE TRUCK. A WORLD OF CAPABILITY.
BUILT FORD TOUGH. ® It's not just a slogan it's an attitude. One that has produced some of the strongest and capable pickups for decades. It's this attitude that leads the Super Duty® to stand out from the competition. It takes a high-strength, military-grade, aluminum-alloy body60 combined with a frame made of high-strength steel. The backbone of its impressive capability to bear the weight of the heftiest loads. And now the most powerful engine ever offered in a Super Duty, * the impressively potent 6.7L High-Output Power Stroke® Turbo Diesel engine. Super Duty. It's BUILT FORD TOUGH.
...less