PHOTO GALLERY
FIND THE RIGHT FORD MEDIUM DUTY FOR YOUR JOB
360° COLOURIZER
BUILT FORD TOUGH® FROM ANY ANGLE
BUILT FORD TOUGH® FROM THE GROUND UP
The 2021 F-650 and F-750 trucks feature a new class-exclusive* 7.3L V8 gas engine, with GCWRs up to 50,000 lbs. (22,679 kg)20  and GVWRs as high as 37,000 lbs. (16,782 kg).20 They also feature new Driver-Assist Technologies10 , such as standard Traction Control19  , available Electronic Stability Control (standard on Tractor only) and more.
...less
*Class 6–7 Conventional Chassis Cabs based on Ford segmentation.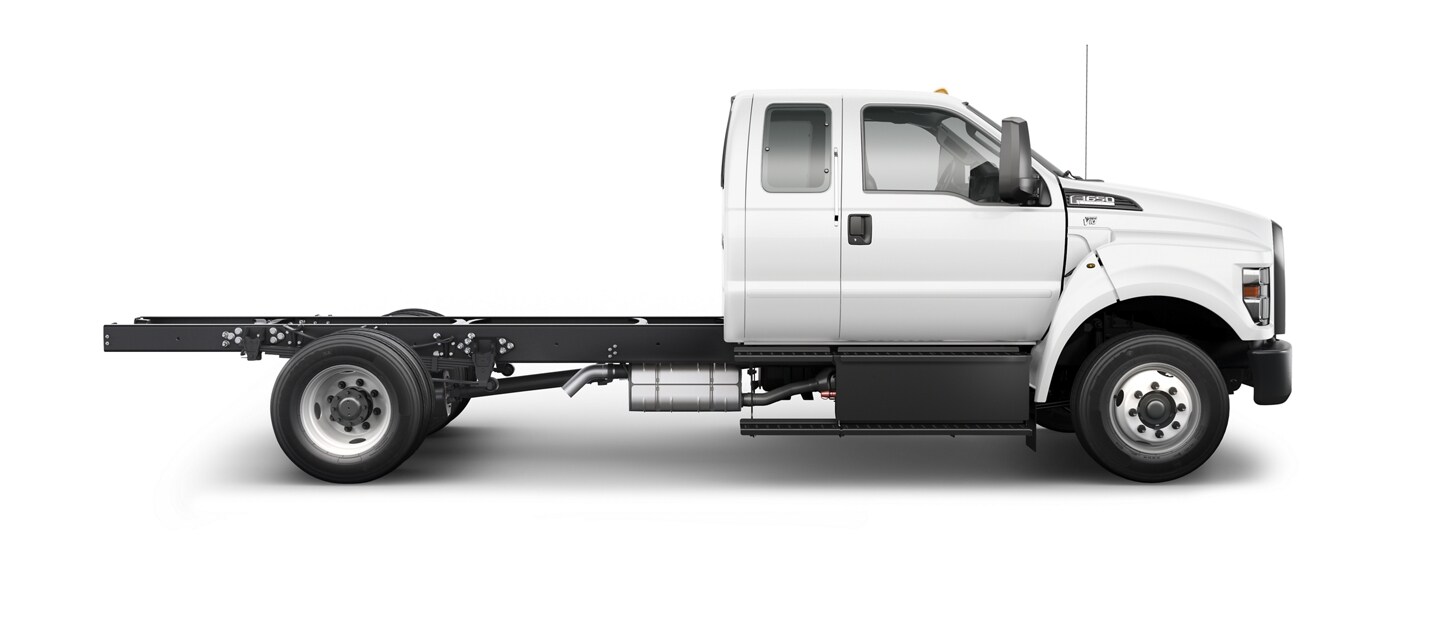 POWER TO GET THE JOB DONE
2021 Ford Medium Duty F-650 and F-750 trucks provide the power you need. Team the new 7.3L V8 gas engine or the updated 6.7L Power Stroke® V8 Turbo Diesel engine with the Ford Torqshift® HD 6-speed automatic transmission and you'll be ready to take on the job.
...less
NEW CLASS-EXCLUSIVE* 7.3L V8 GAS ENGINE

The new class-exclusive 7.3L V8 gas engine has an output of 350 hp and torque of 468 lbs. –ft. @ 3,900 rpm.20 This engine has the largest displacement in its class and features an overhead valve architecture that generates power low in the rev range to help get heavier loads moving sooner and with greater confidence. It also features a variable-displacement oil pump, extra-large main bearings, forged steel crankshaft for durability and piston cooling jets to help manage temperatures under heavy load. Ford remains the only OEM in this segment to make our own transmission and engine. ...less

*Class 6–7 Conventional Chassis Cabs based on Ford segmentation.

FORD 6.7L POWER STROKE® V8 TURBO DIESEL ENGINE

The 6.7L Power Stroke® V8 Turbo Diesel engine offers standard 270/700 as well as optional 300/725 and 330/750 power ratings (horsepower/torque).20 The unique inverse-flow design locates the turbocharger between the cylinder heads and the top of the block, with the exhaust manifold inboard and close to the turbo, for faster air displacement and greater power. The driver-activated engine exhaust braking restricts exhaust flow to create back pressure for seamless braking and reduced brake wear on downhill grades. ...less

FORD TORQSHIFT® HD 6-SPEED AUTOMATIC TRANSMISSION

The Ford TorqShift® HD 6-speed automatic transmission is specially designed with a three-plate/two-stage torque converter and gearsets strengthened with extra pinion gears to handle the heavy demands of the V8 turbo diesel and V8 gas engines. The SelectShift® feature has two modes: Progressive Range Select that limits the range of gears to lock out overdrive, plus Full Manual control. Another feature is Tow/Haul. On an uphill, it selects the gear that minimizes gear hunting; on a downhill, it prevents upshifting and an increase in speed, reducing reliance on brake pressure to slow down. And the TorqShift® offers the available Live-Drive Power Takeoff provision with stationary and mobile modes. ...less
HARDWORKING FROM THE INSIDE OUT
Customers experience Ford Medium Duty comfort not only while seated, but also while getting in and out many times over a long workday. Customers familiar with the comfort of a Ford Super Duty® Pickup or Chassis Cab will feel right at home in a Ford Medium Duty. Seating is supportive. Leg room can suit customers of any size. Gauges are easy to read and controls easy to reach. The large steering wheel has multifunction switches. For the long workday, Medium Duty comfort means business.
...less
LIVE-DRIVE POWER TAKEOFF (PTO) PROVISION WITH STATIONARY AND MOBILE MODES
The Ford TorqShift® HD 6-speed automatic with the available Live-Drive Power Takeoff Provision* includes stationary and mobile modes for diesel and gas engines. An output PTO gear connects directly to the transmission's torque converter impeller hub to allow Live Drive to power the PTO anytime the engine is running, whether the truck is moving or stopped. Split-shaft capability (diesel only) allows a customer to install a Split-shaft Gearbox attached to the output shaft of the transmission which provides torque to two separate PTO outlets, giving you the ability to power two separate accessories when the truck is in stationary mode.
...less
U.S. Model Shown.
*Requires aftermarket Power Takeoff accessory.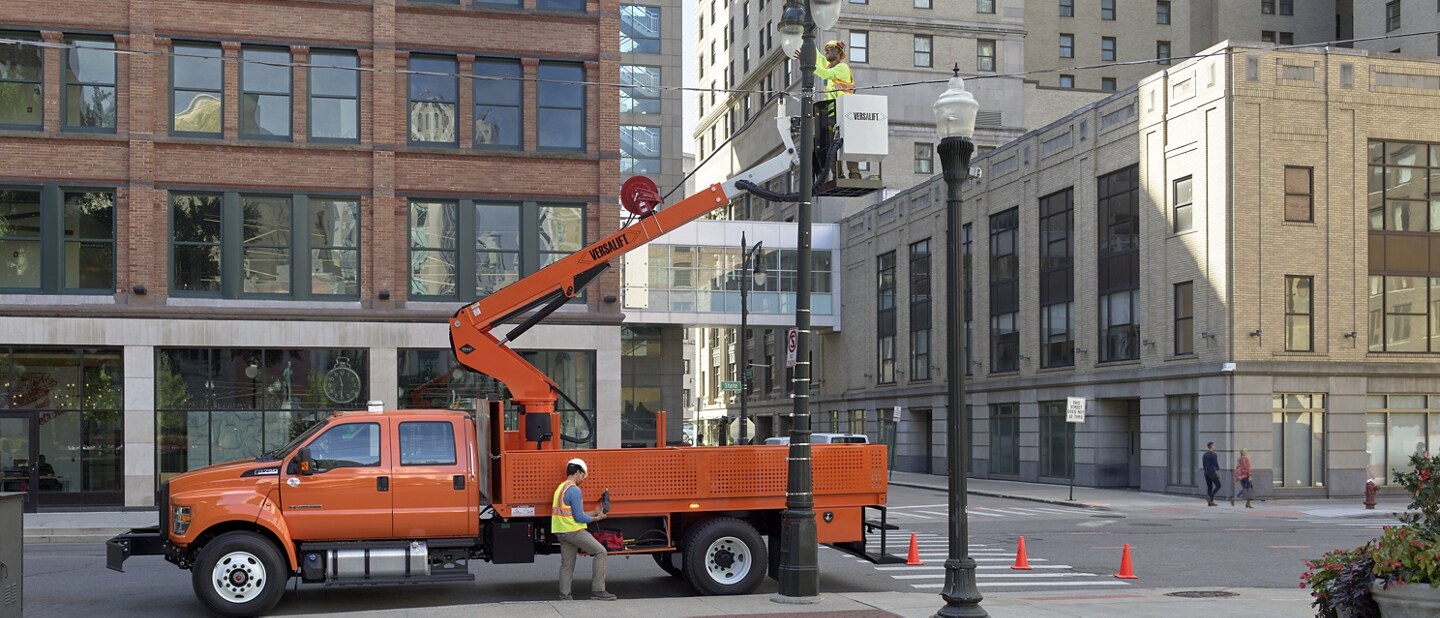 DRIVER-ASSIST TECHNOLOGIES
The 2021 Ford F-650 and F-750 Medium Duty trucks are equipped with new Driver-Assist Technologies to help you feel comfortable and in control. Features like Hill Start Assist10 * and Automatic Headlamps10  are standard on all models, while the available Driver-Assist Technology Package includes Pre-Collision Assist with Automatic Emergency Braking118 , Forward Collision Warning10 , Lane-Keeping Alert10 and Auto High-Beam Headlamps10 . Ford F-650/F-750 Driver-Assist Technologies are designed to help you be aware and alert you on the road ahead.
...less
*Not available on Tractor models. Requires Hydraulic Brakes.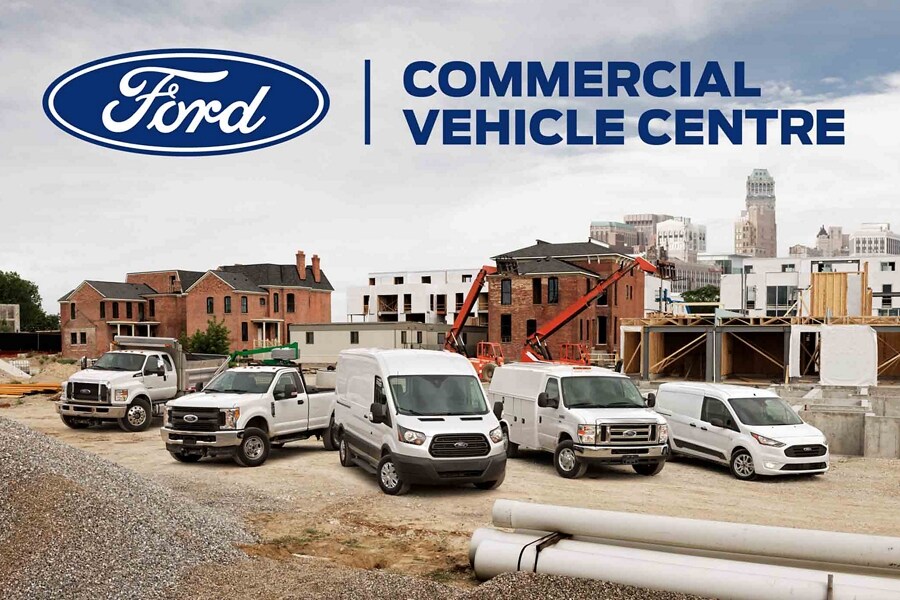 COMMERCIAL VEHICLE CENTRE DEALERS
Commercial Vehicle Centre Dealers are specially trained and equipped to sell, service and finance Ford work vehicles for business customers. Let a Commercial Vehicle Centre Dealer show you all the exceptional services available for your business.
...less
CLEAN, EASY UPFITTING
F-650/F-750 trucks feature a work-ready frame developed with leading upfitters to accommodate most vocational bodies. This collaboration resulted in components such as fuel tanks, battery boxes and diesel exhaust fluid reservoirs located under the cab. Choose from 36 standard clean CA offerings ranging from 72 to 207" (1,829 to 5,258 mm).
...less
FORD COMMERCIAL SOLUTIONS
We've engineered manufacturer-grade commercial tools in conjunction with the Ford vehicles that make up your fleet. Our software and hardware work seamlessly with your vehicles to help you solve problems, optimize your fleet and keep your operations running smoothly. Ford Telematics™ and Ford Data Services™ give you the power of choice to run your business how you want.
...less
OPTIMIZE YOUR FLEET OPERATION WITH FORD TELEMATICS™