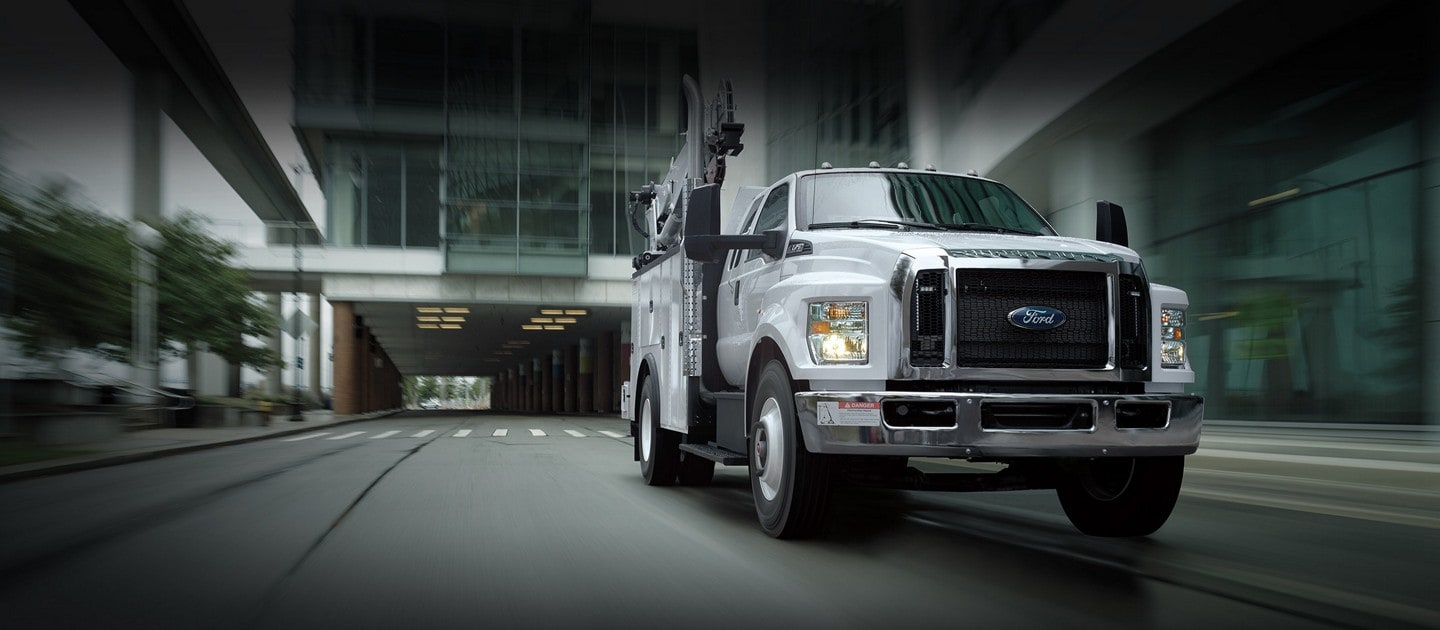 2023 FORD F-650® AND F-750®
BUILT FORD TOUGH® FROM THE GROUND UP
The 2023 F-650® and F-750® gas trucks feature a class-exclusive* 7.3L V8 gas engine, with GCWRs up to 50,000 lbs. (22,679 kg)20 and GVWRs as high as 37,000 lbs. (16,782 kg).20 They also feature Driver-Assist Technologies10 such as standard Lane Departure Warning,19 available Forward Collision Warning10 and more.
...less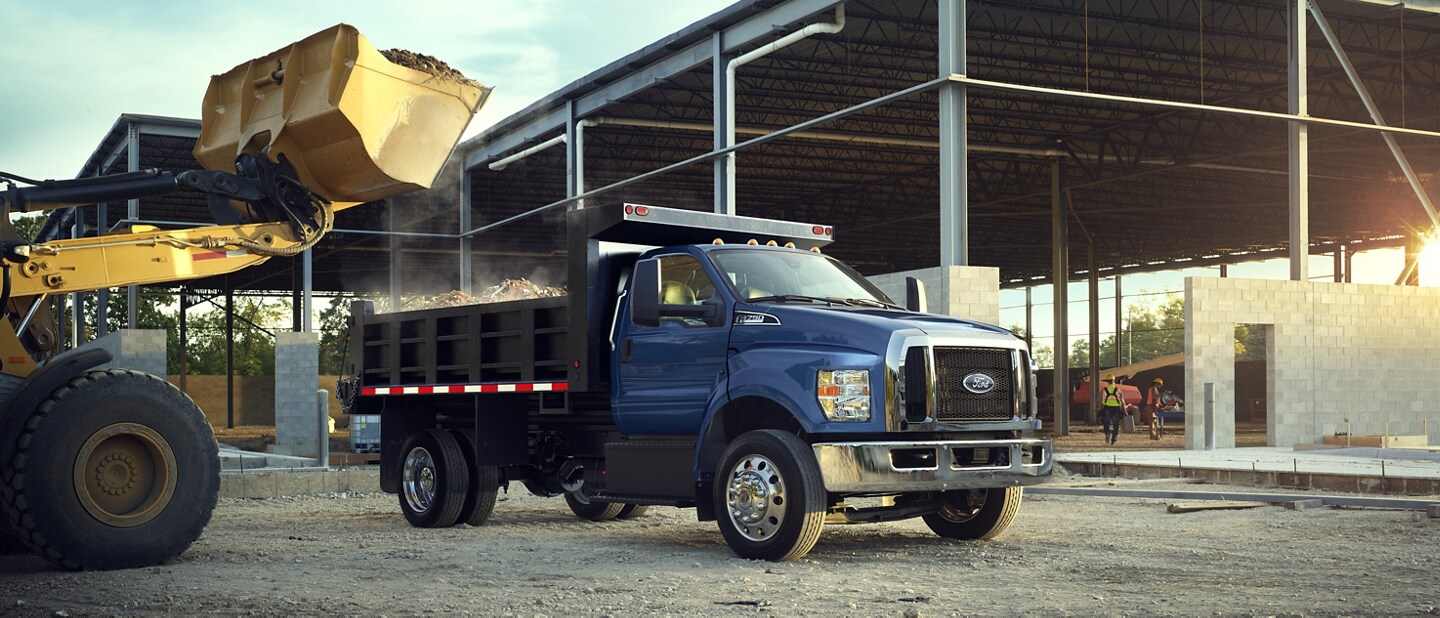 CLASS-EXCLUSIVE* 7.3L V8 GAS ENGINE
The class-exclusive* 7.3L V8 gas engine has an output of 335 hp and torque of 468 lbs. -ft. @ 3,750 rpm.

20

This engine features an overhead valve architecture that generates power low in the rev range to help get heavier loads moving sooner and with greater confidence. It also features a variable-displacement oil pump, extra-large main bearings, forged steel crankshaft for durability and piston cooling jets to help manage temperatures under heavy load.
...less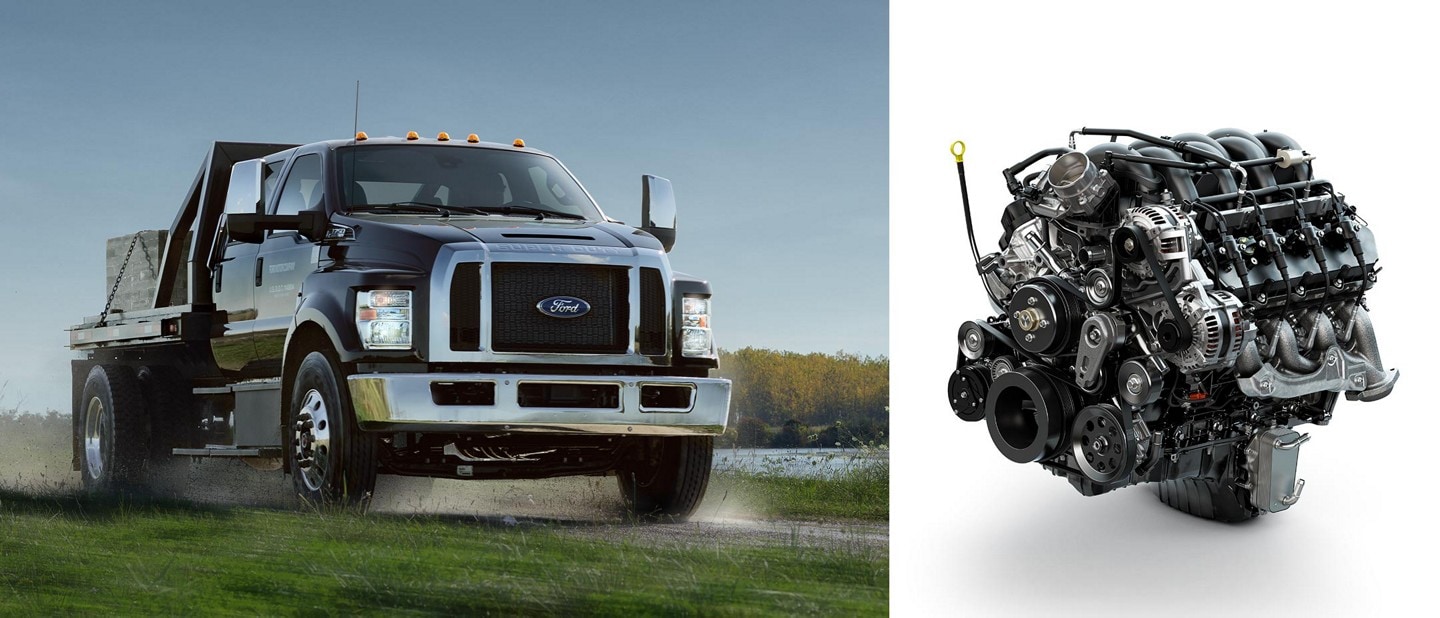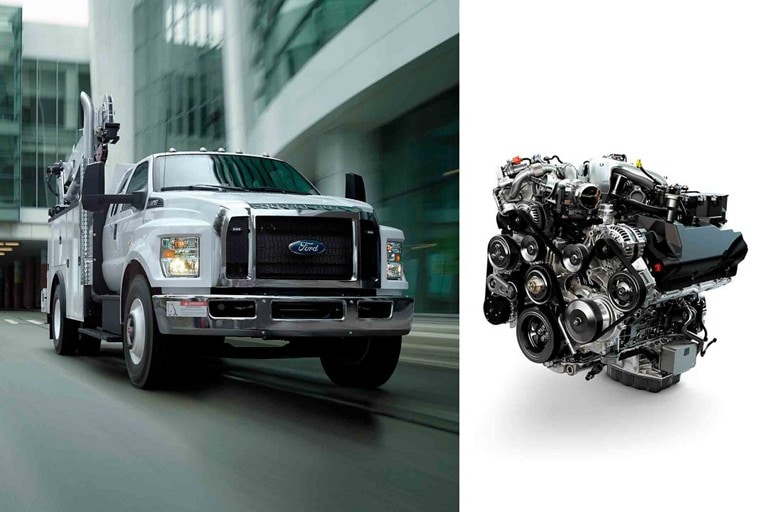 FORD 6.7L POWER STROKE® V8 TURBO DIESEL ENGINE
The 6.7L Power Stroke® V8 Turbo Diesel engine offers a standard power rating of 270 hp/700 lb.-ft. of torque and optional rating of 300 HP/725 lb.-ft. and 330 hp/750 lb.-ft.

20

The unique inverse-flow design locates the turbocharger between the cylinder heads and the top of the block, with the exhaust manifold inboard and close to the turbo, for faster air displacement and greater power. The driver-activated engine exhaust braking restricts exhaust flow to create back pressure for seamless braking and reduced brake wear on downhill grades.
...less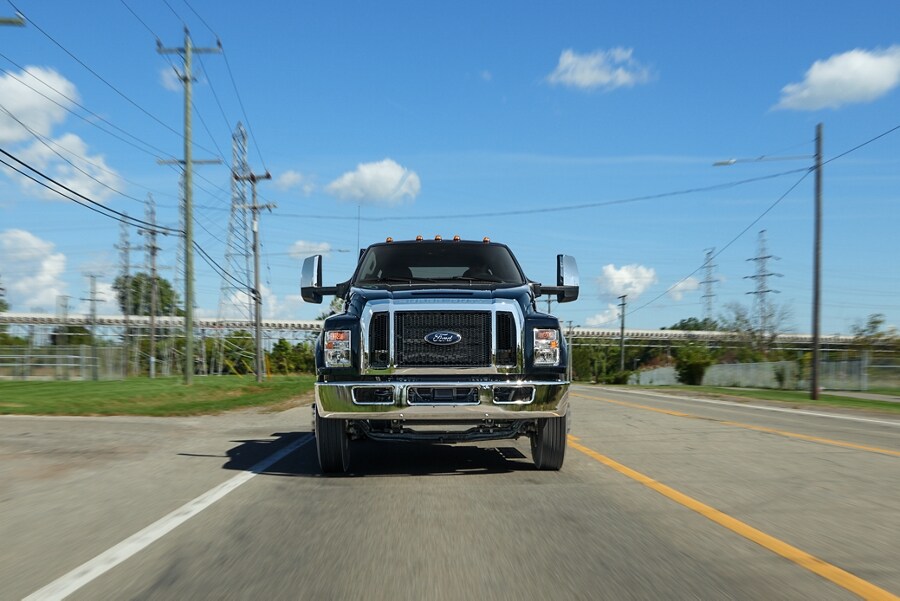 FORD TORQSHIFT® HD 6-SPEED AUTOMATIC TRANSMISSION
The Ford TorqShift® HD 6-speed automatic transmission is specially designed with a 3-plate/2-stage torque converter and gearsets strengthened with extra pinion gears to handle the heavy demands of the V8 Turbo Diesel and V8 gas engines. The SelectShift® feature has two modes: Progressive Range Select that limits the range of gears to lock out overdrive, plus Full Manual control. Another feature is Tow/Haul. On an uphill, it selects the gear that minimizes gear hunting; on a downhill, it prevents upshifting and an increase in speed, reducing reliance on brake pressure to slow down. And the TorqShift offers the available Live-Drive Power Takeoff provision with stationary and mobile modes.
...less
BUILT READY FOR ANYTHING
2023 Ford Medium Duty trucks are designed to get your work done as efficiently as possible. Features like the Live-Drive Power Takeoff provision (standard on diesel models) with mobile mode* and the variety of convenient and easy upfits available on F-650® and F-750® trucks make it a versatile work truck built ready to meet your needs.
...less
LIVE-DRIVE POWER TAKEOFF (PTO) PROVISION WITH STATIONARY AND MOBILE MODE

The Ford TorqShift® HD 6-speed automatic with the available Live- Drive Power Takeoff provision* includes stationary and mobile modes for diesel and gas engines. An output PTO gear connects directly to the transmission's torque converter impeller hub to allow Live Drive to power the PTO anytime the engine is running, whether the truck is moving or stopped. Split-shaft capability (diesel only) allows a customer to install a split-shaft gearbox attached to the output shaft of the transmission, which provides torque to two separate PTO outlets, giving you the ability to power two separate accessories when the truck is in stationary mode.  ...less

CLEAN, EASY UPFITTING

F-650® and F-750® trucks feature a work-ready frame developed with leading upfitters to accommodate most vocational bodies. This collaboration resulted in components such as fuel tanks, battery boxes and diesel exhaust fluid reservoirs located under the cab. Choose from 36 standard clean CA offerings ranging from 72"  to 207" (1,829 mm to 5,258 mm). ...less
DRIVER-ASSIST TECHNOLOGIES
The 2023 Ford F-650® and F-750® Medium Duty trucks are equipped with a variety of technologies to help you feel comfortable and in control. These include features such as Automatic Headlamps10 which are standard on all models, and Hill Start Assist,10 * while the available Driver-Assist Technology Package includes Automatic Emergency Braking,118 Forward Collision Warning,10 Lane Departure Warning10, Auto High-Beam Headlamps10 and Adaptive Cruise Control.10 Ford F-650/F-750 Driver-Assist Technologies10 are designed to help you be aware and to alert you on the road ahead.
...less
360° COLOURIZER
Aftermarket equipment shown.
360° COLOURIZER
BUILT FORD TOUGH. ® AND COMFORTABLE TOO.
Ford Medium Duty trucks aren't just built to work hard; they're built for comfort on jobs both large and small. The 2023 Ford Medium Duty interior is full of convenient features, such as an ergonomically designed Steering Wheel, Instrument Cluster and a Tilt/Telescoping Steering Column with Audio Controls. Just because you work hard doesn't mean the hours you spend behind the wheel have to be hard too.
...less
U.S. Model Shown.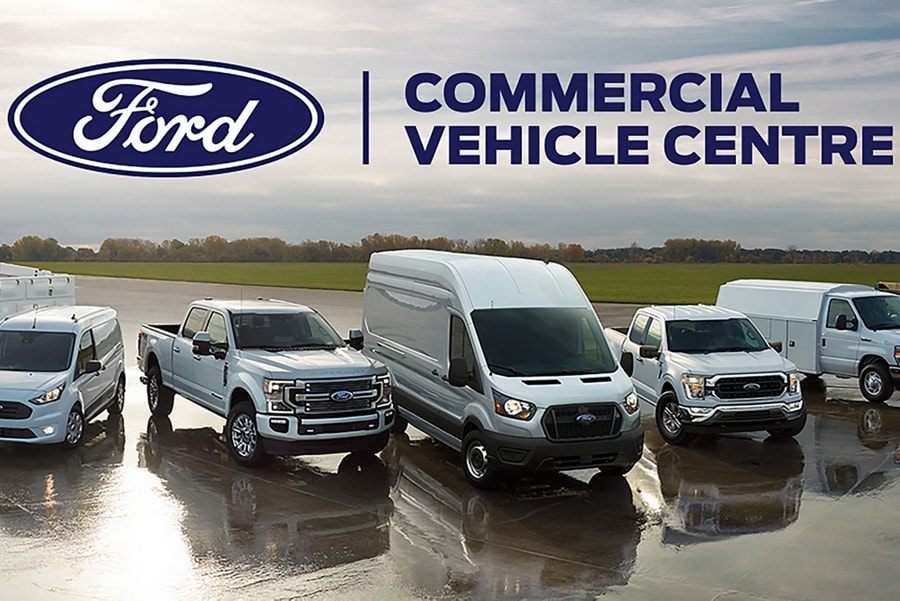 COMMERCIAL VEHICLE CENTRE DEALERS
Commercial Vehicle Centre Dealers are specially trained and equipped to sell, service and finance Ford work vehicles for business customers. Let a Commercial Vehicle Centre Dealer show you all the exceptional services available for your business.
...less
U.S. Model Shown with Available Exterior Appearance Group.
FORD PRO™
With Ford Pro™  you get service options, financing flexibility and telematics data you need to manage your fleet of world-class Ford vehicles. It also allows you to shop for and finance a fleet that suits your specific business needs.
...less