2024 F-650® F-750®
CAPABILITY
MEDIUM DUTY GETS THE JOB DONE
Work-proven Ford Medium Duty trucks are built on a platform of strenuous testing for long-term durability and dependability and engineered to meet your precise specifications. Choose the Medium Duty that will get your work done: Regular Cab, SuperCab or Crew Cab, low-height Pro Loader straight-frame model. GVWRs range from 26,000 lbs. to 37,000 lbs. (11,793 kg to 16,782 kg).20 Ford Medium Duty is built in North America* to get your job done dependably when conditions are tough, all while keeping low-cost operation in mind.
...less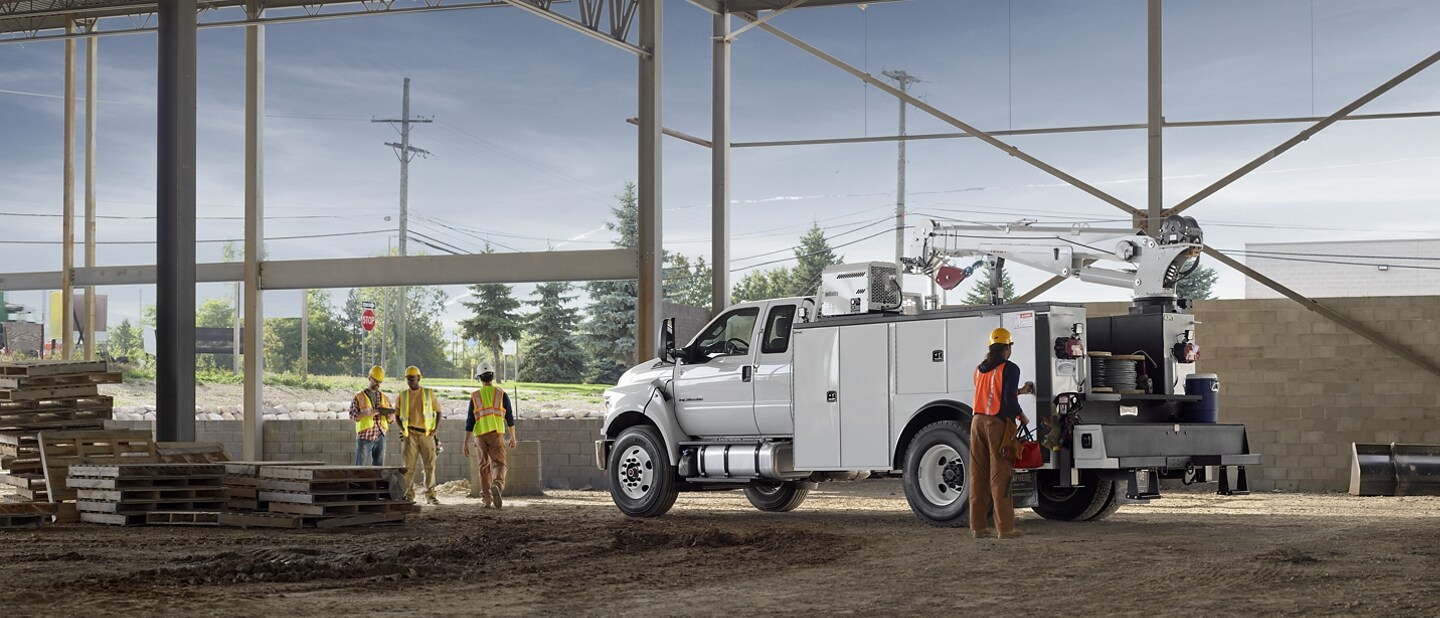 DRIVER ASSIST TECHNOLOGIES
The 2024 Ford F-650® and F-750® Medium Duty trucks are equipped with a variety of technologies to help you feel comfortable and in control. This includes features like Automatic Headlamps10 which are standard on all models, while the available Driver-Assist Technology Package includes Automatic Emergency Braking,118 Forward Collision Warning,10 Lane Departure Warning,10 Auto High-Beam Headlamps10 and Adaptive Cruise Control.10 Ford F-650/F-750 Driver-Assist Technologies10 are designed to help you be aware and alert you on the road ahead.
...less
WIDE GVWR RANGE (26,000–37,000 LBS.)
Ford Medium Duty trucks are available in GVWRs ranging from 26,000 lbs. (9,979 kg) with the F-650 Pro Loader® to 37,000 lbs. (16,782 kg) with the 6.7L Power Stroke® Turbo Diesel-powered F-650® and F-750®.

20
...less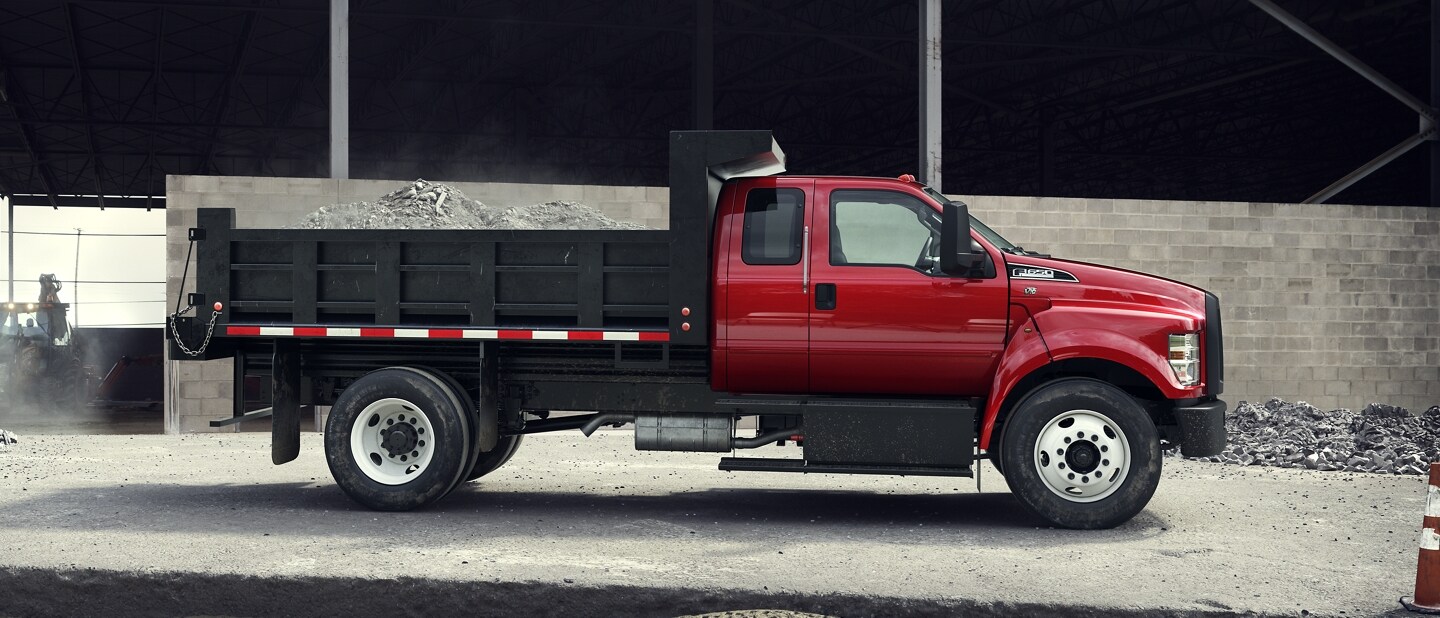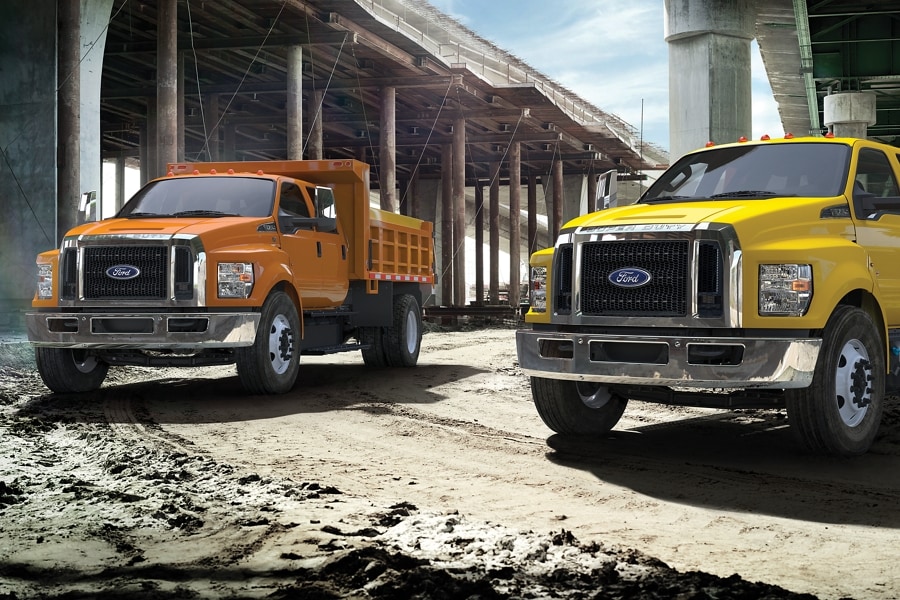 STRAIGHT FRAME AND PRO LOADER® MODELS
For such applications as landscaping and delivery services calling for a low frame height, there's the F-650 Pro Loader® model. It has a 33.6" chassis height and standard 19.5" wheels. GVWR range is 26,000 to 37,000 lbs. The F-650® Straight-Frame Model has a 39.4" chassis height and rides on standard 22.5" wheels. GVWR range is 25,600 to 29,000 lbs. For maximum payload capability, there's the F-750® Straight-Frame Model. GVWR is up to 33,000 lbs. (gas engine) and up to 37,000 lbs. (diesel engine).
...less
U.S. Model Shown with available Exterior Appearance Group.
COMFORTABLE RIDE AND HANDLING
Today's F-650® and F-750® trucks are designed for comfort. An available Front Stabilizer Bar provides handling stability, and the turning radius is tighter for maneuverability. Additionally, Air Brakes with Traction Control19 are available on Diesel-Powered F-650/F-750 Straight-Frame Models. 2024 Ford medium duty trucks also include an Instrument Cluster and Panel Centre Stack designed for added driver convenience and Driver-Assist Technology10 features to help alert you and help you keep your confidence on the road.
...less