HARDWORKING. ELECTRIC. E-TRANSIT
Make the switch to electrification with the only electric work van that has the backing of Ford Motor Company. Utilize an entire ecosystem of products, software and charging solutions that can help you transition seamlessly into the future of business.
MOVING FORWARD WITH ELECTRIC ENERGY
New all-electric vehicles from Ford offer an efficient and exhilarating driving experience. The energized performance can already be seen in the Mustang Mach-E, which takes less than half a second to reach peak acceleration.* Plus, there are minimal scheduled maintenance costs, zero vehicle emissions, available government rebates and plenty of other incentives that make for a seamless switch into electric energy. To make it even easier, Ford also offers a network of simple charging methods whether you're at home or on the road.
*Calculated via peak performance of the electric motor(s) at peak battery power. Your results may vary.
CHARGING AT HOME
Charging your electric vehicle is as simple as plugging in. Charge overnight with the available Ford Mobile ChargerTooltip. And if you're looking to maximize your home charging speed, use the Ford Connected Charge Station.Tooltip
FORD CONNECTED CHARGE STATION 240V/48A
FORD MOBILE CHARGER WITH 240V/32A NEMA 14-50 WALL OUTLET
FORD MOBILE CHARGER WITH 120V/12A WALL OUTLET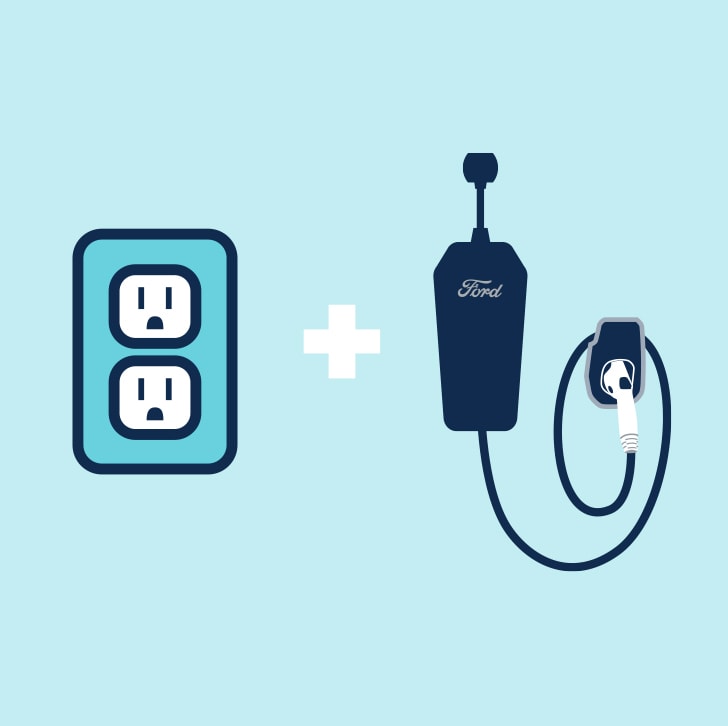 *Ford Electric Vehicles include the all-electric Mustang Mach-E and Ford Plug-in Hybrid Electric Vehicles. Home charging refers to AC charging.
**Range and charge time based on manufacturer computer engineering simulations and EPA-estimated range calculation methodology. The charging rate decreases as battery reaches full capacity. Your results may vary based on peak charging times and battery state of charge. Actual range varies with conditions such as external environment, vehicle use, driving behaviours, vehicle maintenance, lithium-ion battery age and state of health.
CHARGE FASTER WITH THE FORD CONNECTED CHARGE STATION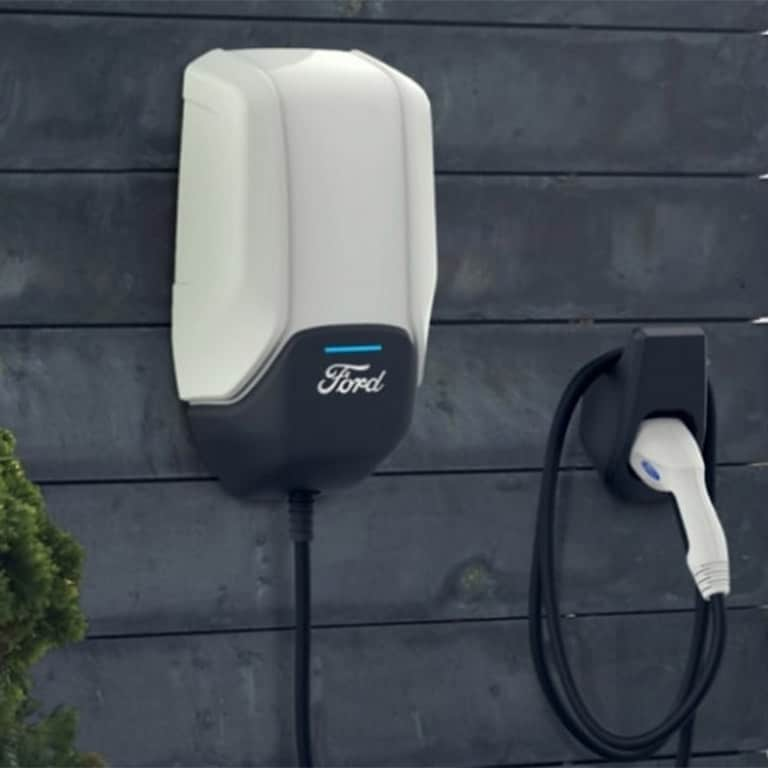 With the available Ford Connected Charge Station, you can charge up to ten times faster than with a standard wall outlet. You can even control access to the Connected Charge Station and schedule specific charge times with available intelligent features.
FORD OFFERS YOU THE LARGEST CHARGING NETWORK IN NORTH AMERICA
On the road, Ford customers will have simple and easy access to thousands of EV chargers through the growing BlueOval™ Charge Network. It's the largest public charging network in North America offered by automotive manufacturers.Tooltip
*Based on original equipment manufacturers (OEM)/automotive manufacturers that sell all-electric vehicles and have publicly announced charging networks and using Natural Resources Canada Electric Charging and Alternative Fueling Stations Locator website (www.nrcan.gc.ca). FordPass, compatible with select smartphone platforms, is available via a download. Message and data rates may apply.
94 kilometres of range in 10 minutes with a 150kW DC Fast ChargerTooltip
Control How You Charge with FordPass™ On the Go
ALL-ELECTRIC INCENTIVES
Going electric can be as easy on your wallet as it is on your lifestyle. Drivers of battery electric vehicles can enjoy potential government incentives and no more trips to the gas station.
PROVINCIAL AND FEDERAL INCENTIVES
BEVs may be eligible for provincial government incentives in Québec, British-Columbia and Nova Scotia.* Be sure to visit the website for each incentive program to receive up-to-date information on eligibility and redemption requirements.
*Federal and provincial electric vehicle incentives (each an "Incentive") are provided separately by the provincial governments of British Columbia, Nova Scotia and Quebec (each a "Participating Province") and the Canadian federal government ("Transport Canada"). The Incentives are subject to cancellation or change by Transport Canada or any Participating Province without notice. Ford Motor Company of Canada, Limited is not responsible for any changes to or cancellation of the Incentives and makes no representations about eligibility. For more information about each Incentive, please consult Transport Canada, your provincial government or a Ford dealer. Rebate amount varies by eligible vehicle and purchase option. The Incentives provided by Transport Canada and the Participating Provinces are applied after applicable taxes are calculated. Certain conditions apply.
REGULAR SERVICE BECOMES A LOT LESS REGULAR
There's no gas engine in an electric vehicle so you'll no longer need regular gas engine services such as oil changes.
DON'T MISS A THING
We're harnessing performance and passion to redefine what electric can do. And more exciting new electric vehicles are on the horizon. Be among the first to get updates, info and first looks.