2021 Bronco Sport
EXTERIOR
Built for the Outdoors
Like any breathtaking view, a picture just doesn't do it justice. You have to experience it for yourself. Bronco Sport wasn't built for the camera roll, it was built for action. And with standard 4x4 throughout, that goes for the whole lineup. There are no loose ends or weak links, every model, every feature and every detail of this master-crafted SUV was built with a specific purpose in mind — to maximize your ability in the outdoors.
...less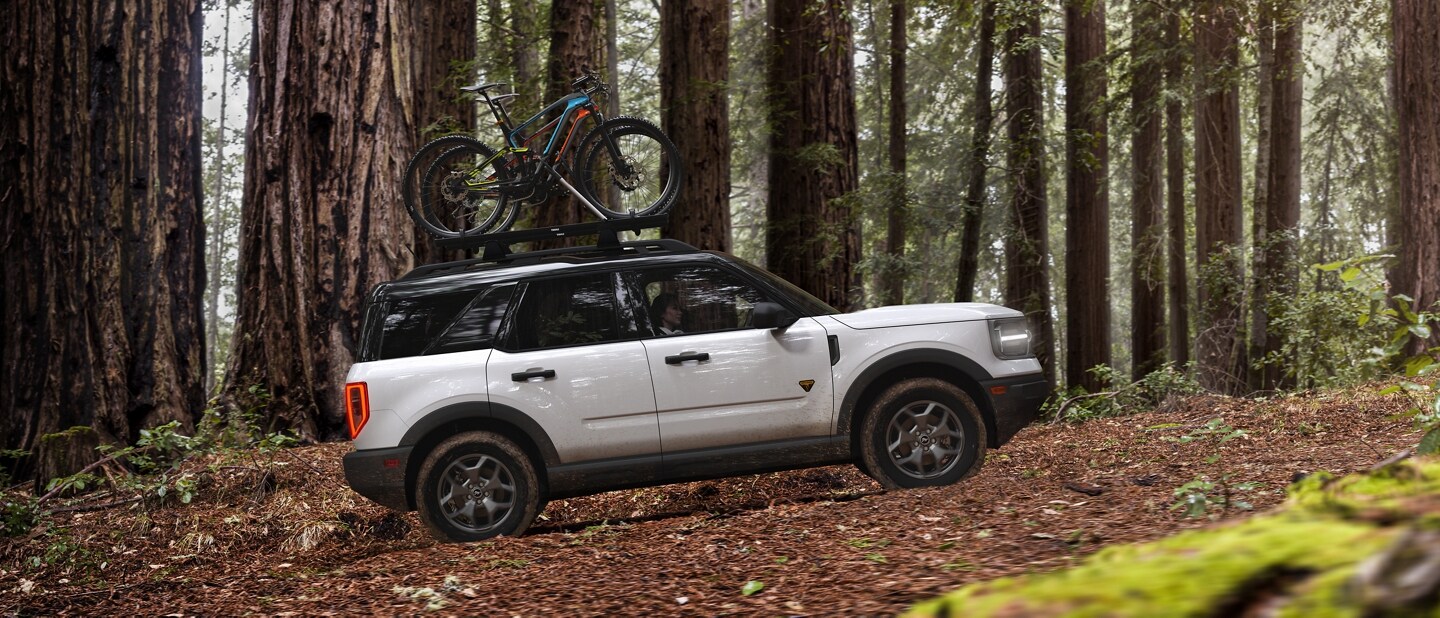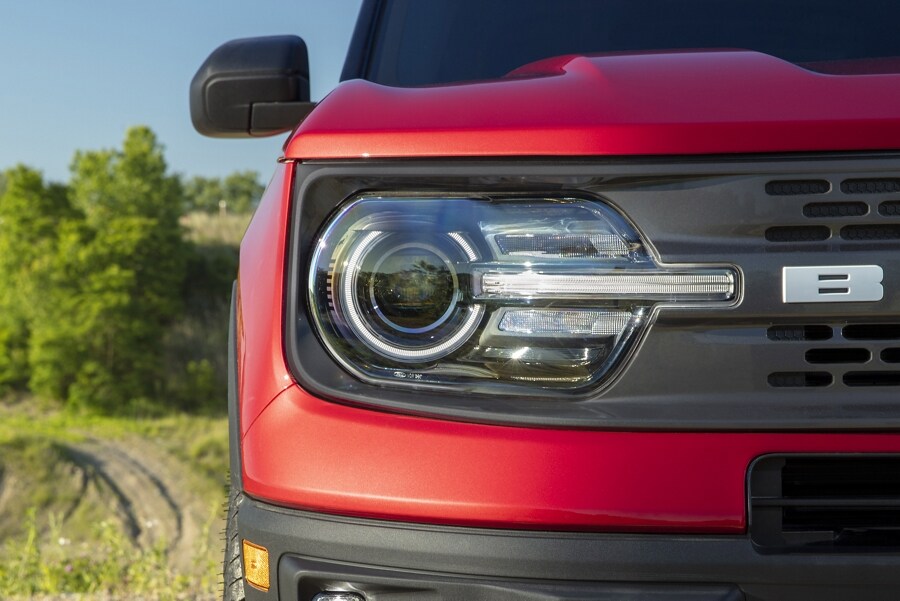 An Instant Classic
A new breed of SUV with a strong silhouette, simple and effective build properties and true Bronco DNA.
...less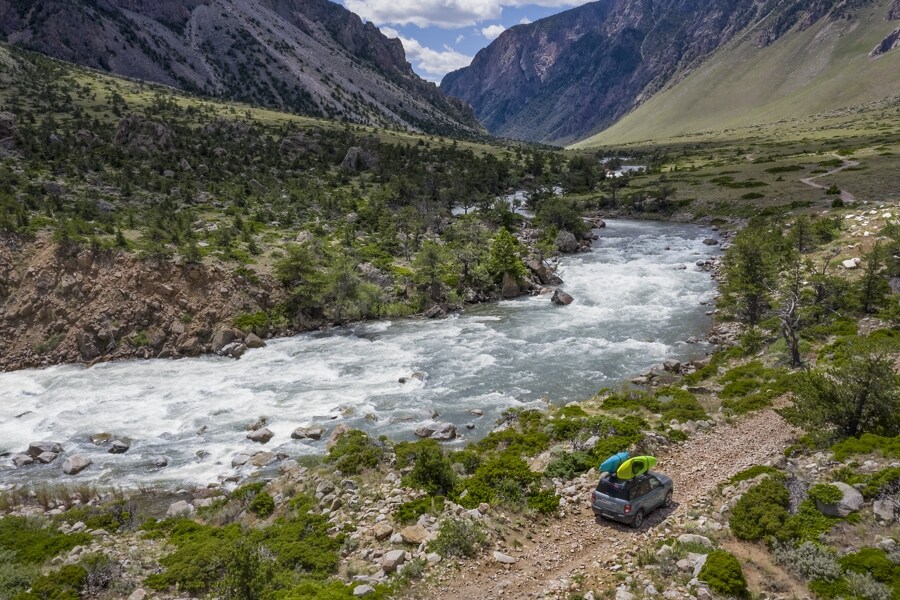 Go Where Adventure Takes You
The body to match your active lifestyle. Its wide stance, shorter wheelbase and elevated body project confidence on the trail. More than just a strong appearance, this practical architecture proves itself with available 8.8'' ground clearance, substantial approach and departure angles and water-fording capability.*
...less
U.S. Model Shown with Aftermarket Accessories.
*Try to avoid water higher than the bottom of the hubs and proceed slowly. Refer to your owner's manual for detailed information regarding driving through water.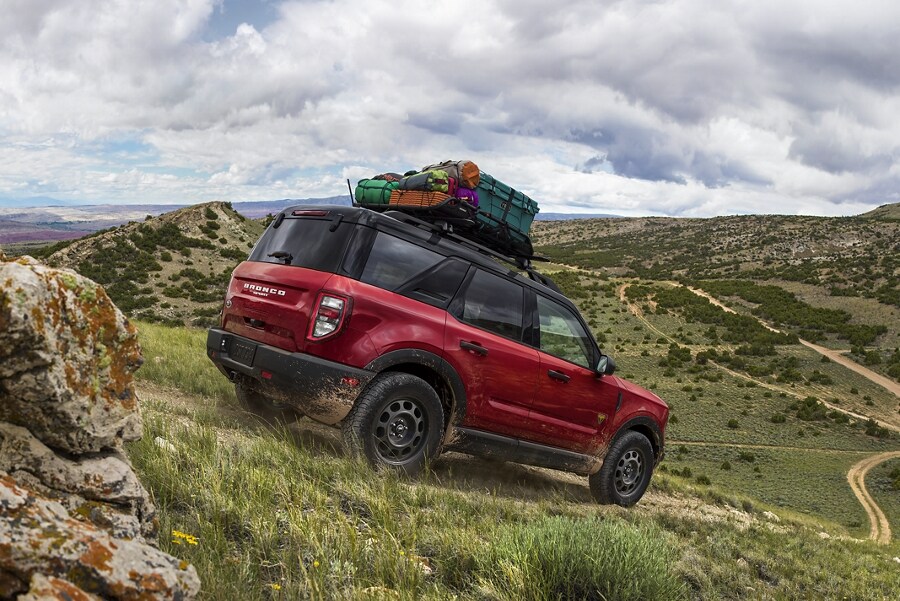 Equipped for the Unpredictable
Bronco Sport offers thoughtful features for utility along the way. Use the available Roof Rack to load your gear, standard Rear Liftgate Flood Lights to illuminate your campsite and only on the Bronco Sport Badlands model, standard Tow Hooks to help your fellow travellers. 
...less
U.S. Model Shown with Aftermarket Accessories.
Pure. Simple. Iconic.
There's nothing quite like a Bronco Sport. Its silhouette is engineered with iconic architectural elements of a Bronco, uniquely tuned to fit the needs of a new wave of adventurer. The fundamental design is complete with Peaked Front Fenders, a Flat Bodyside, Contrast-Colour Roof (only on Outer Banks and Badlands models) , One-Piece Grille and Two Round Headlamps, bisected with perfect geometry by a Bar, proudly displaying the Bronco name.
...less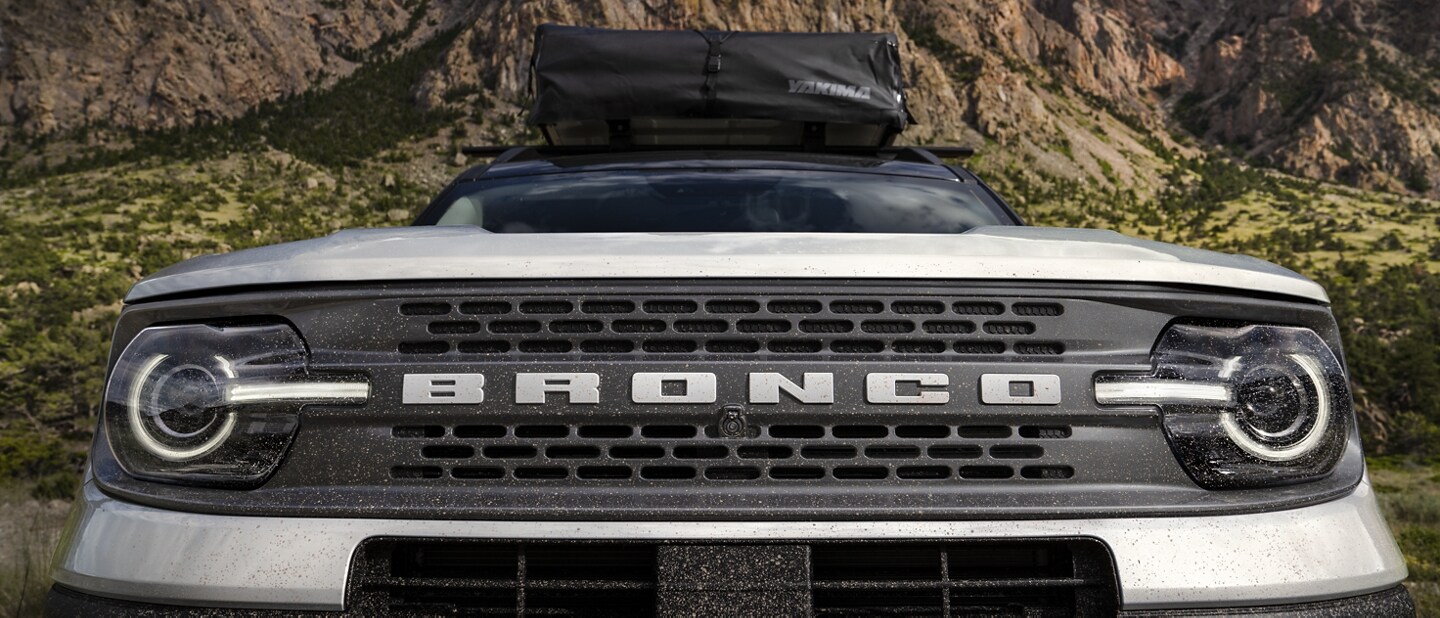 A Bronco in Body, Mind and Action.
A sharp, detailed and boldfaced exterior matches its assertive attitude, culminating in one truly sensational machine.
The Ultimate Backpack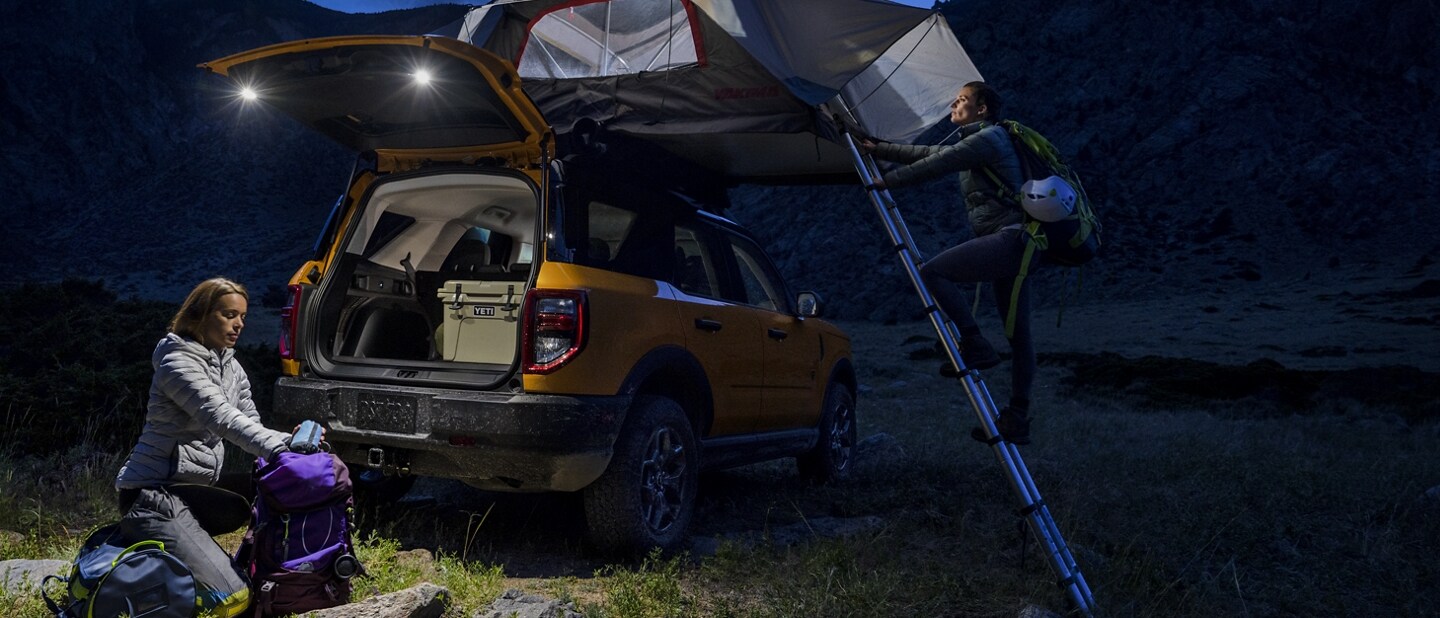 Cargo on Roof While Driving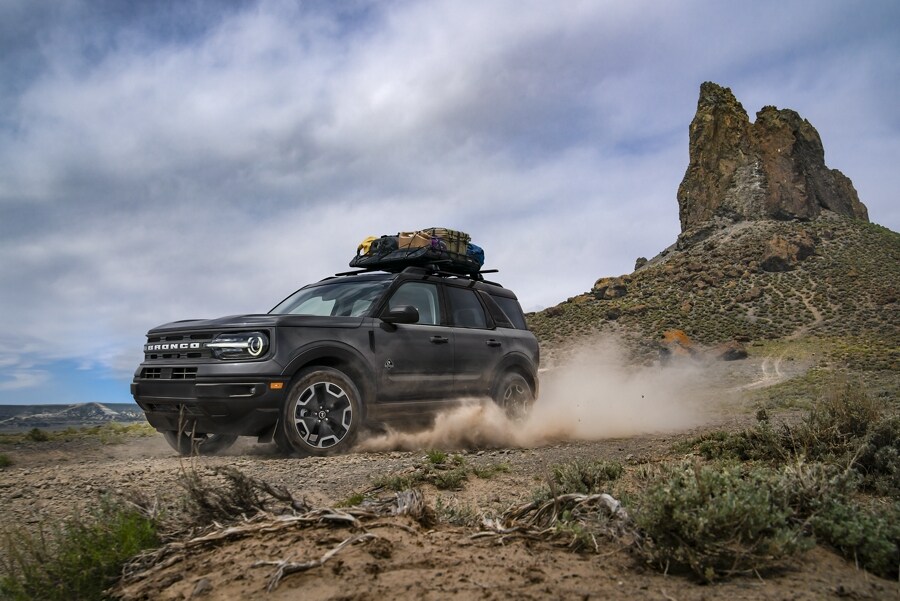 Let your Bronco Sport do the heavy lifting. The Safari-Style Roof can hold your more substantial equipment with the ability to support a 150-lb. dynamic load. Throw your kayak, skis or bikes up top and head to your destination, knowing you'll have everything you need when you arrive.101 
...less
U.S. Model Shown with Aftermarket Accessories.
Tent on Roof While Static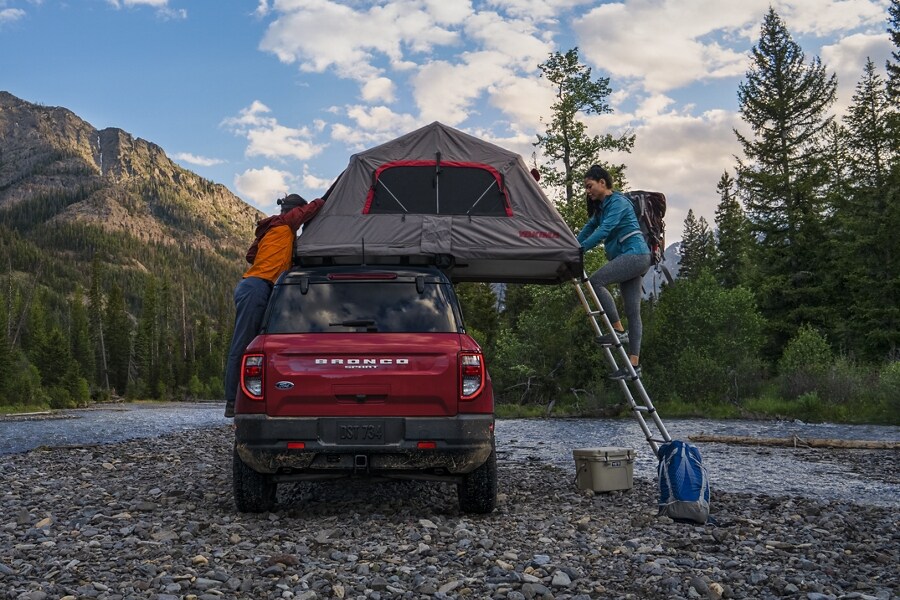 The 600-lb. static load capability means you can set up camp wherever you stop. When you find the perfect spot but the ground isn't campsite compatible, the Safari-Style Roof can support you, your rooftop tent and your gear. An elevated campsite can also help protect your food from the chipmunks, squirrels and any other wild creatures.
...less
U.S. Model Shown with Aftermarket Accessories.
Approach and Departure Angles
The higher you go, the better the view. The Bronco Sport Badlands model can transition from flat ground to steep inclines and vice versa while comfortably manoeuvring on a 30.4 degrees approach angle and 33.1 degrees departure angle, when equipped with available 29" All-Terrain Tires.
...less
Off-Road Exterior
After hours of driving from city streets, you reach an unpaved road surrounded by 30-foot trees as far as your eye can see. A fork in the road presents two routes — one is smooth with a solid spot to set up camp. The other: gnarled, dark and murky, but offering infinite possibilities. Then you remember you're in a Bronco Sport.
...less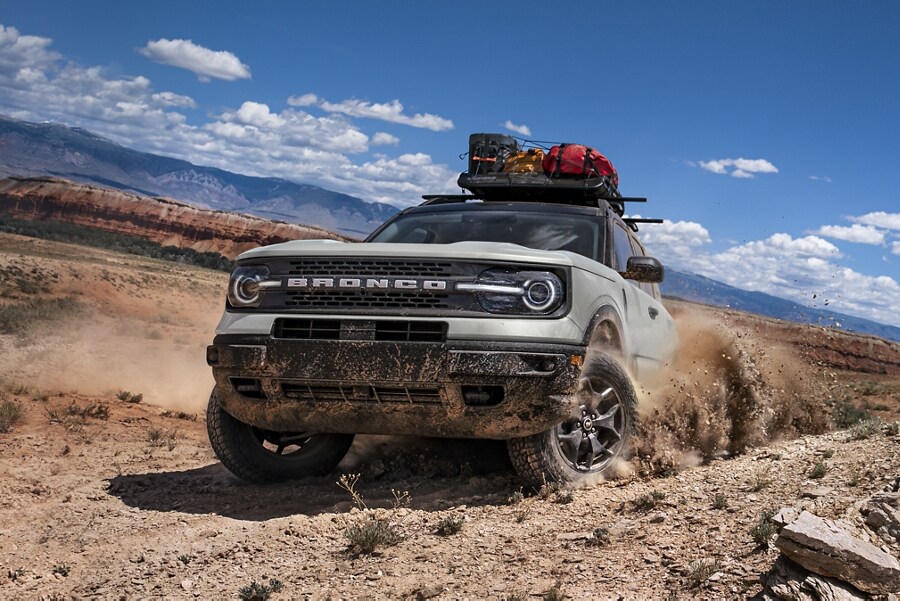 8.8'' Available Ground Clearance
Stay clear of sharp rocks and fallen branches. The 2021 Ford Bronco Sport Badlands with 235/65R17 tires has unsurpassed best-in-class available ground clearance of 8.8''.* 
...less
U.S. Model Shown with Aftermarket Accessories.
*Class is Non-Premium Subcompact Utility.

Wheel Arch Mouldings and Rocker Panels
When you're kicking up rocks on the trail, you'll be glad to know there's a buffer zone between your dignified Bronco Sport body and the harsh ground below. The Wheel Arch Mouldings and Rocker Panels, made of a robust and unpainted plastic, gladly take a beating to help protect the paint, body and windows from debris.
...less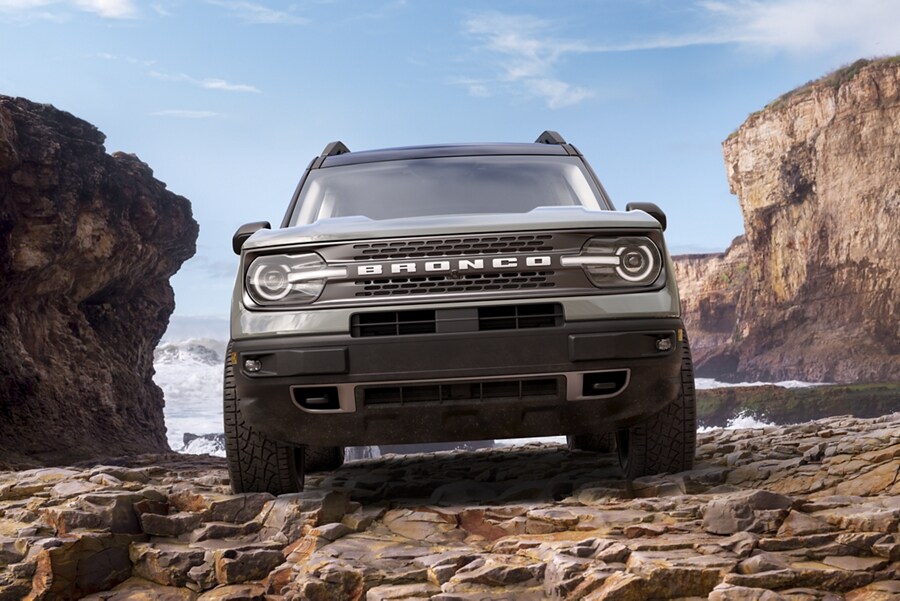 Bash Plates
When the going gets tough, Bronco Sport Badlands model barely notices. Standard Bash Plates protect the underbody of your vehicle when heading into the wilderness. 
...less