Post-War Fords - Frontenac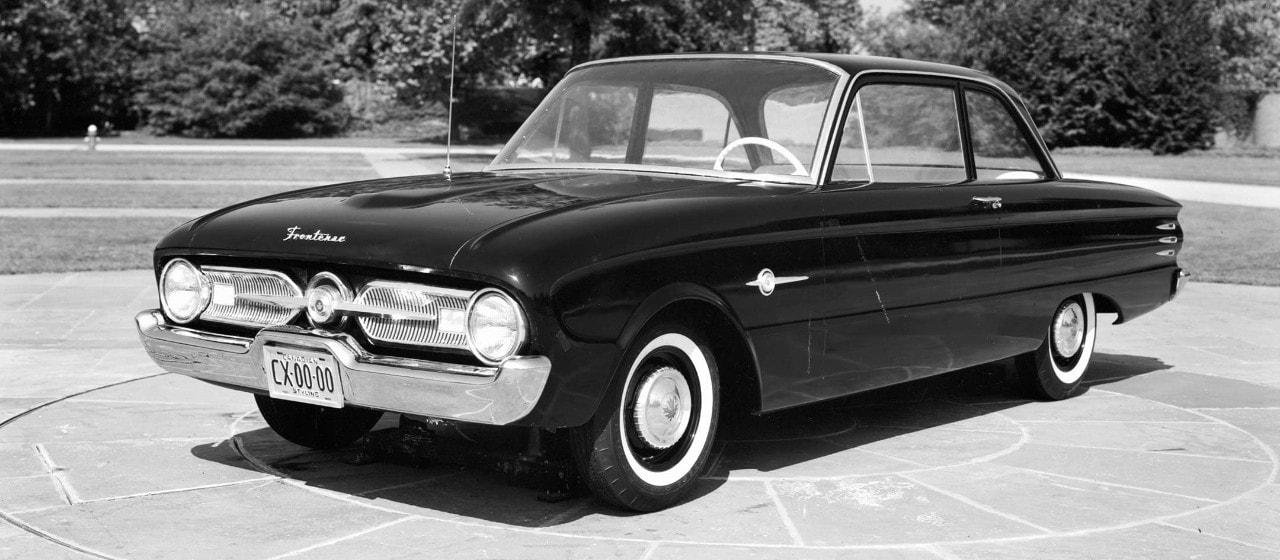 Frontenac was a Governor of New France in the latter 17th century. His name was used on a Canadian car built by Durant in 1931. When Ford Motor Company of Canada introduced a compact car for 1960, it seemed strange that they chose a name used by another company. But after 29 years, only the oldest of car trivia fanatics would remember.

The Ford Motor Company of Canada, Limited was keeping quite a level playing field for its two dealer chains. For just about every model the Ford branch sold, the Mercury-Meteor branch had a comparable model to sell.

So when the compact 1960 Falcon appeared in Ford showrooms across Canada, Mercury dealers displayed the Frontenac. It was their compact car, and an alternative for the buying public. The Frontenac was a make in its own right - not a Mercury, not a Meteor. It was a Frontenac.

Its grille had two sections with many vertical bars. Each was rocket shaped and pointed to the centre. At the centre was a chrome disc with a red maple leaf on it. This plate was attached to grillwork by a long horizontal bar on each side.

A chrome dart on the front fender also had a red maple leaf. Three chrome windsplits, one over the other, were near the end of the rear fender. The chrome lock and handle on the trunk also included a red maple leaf. An interesting variation from Falcon's tail-lights used a small red lens. Though much smaller than Falcon's lights, it appeared to be just as large when illuminated. A wide multi- bevelled rim reflected the light from the protruding lens.

At first only 2- and 4-door sedans were available, but later 2- and 4-door station wagons were offered. Like Falcon, there was only one line, but DeLuxe trim was optional.

Frontenac was mechanically the same as Falcon. Of course that included the 90 hp 144 cid 6-cylinder engine.

This Canadian variation was a big hit with buyers clamouring for a compact car. Over 8400 were sold during calendar 1960. That put it ahead of Valiant and Corvair. Ford of Canada's combined Falcon and Frontenac sales accounted for 5.23% of the total 1960 new car market.

Despite is popularity, Frontenac lasted only one year. For 1961, Mercury dealers got the Comet to sell. American Mercury dealers had it part way through the 1960 season, but in Canada Comet production did not begin until the 1961 model year.